12 January 2009 — Amritapuri
Inspired by Amma's message of 'love and serve', the students of Amrita University have been dedicating time to raise money for the poor.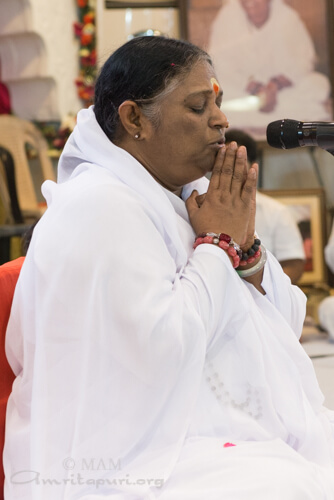 Under the leadership of Muhammad Ashik (ME), Balu Menon (CS), Nirmal (BBM), Bimal (BSc) and many others, they raised Rs. 24,000 by selling North Indian snacks, painting temporary henna tattoos and selling gift items on the Amritapuri campus during the Diwali festival.
The students presented Rs. 12,000 of the money raised, to sponsor the education of a Ramya (6th standard) at the Ashram's orphanage in Parippalli. This money is being put in a savings account in Ramya's name. Her father, who worked climbing trees to harvest coconuts, fell down and died while working. Ramya is a bright student who says she wants to be a science teacher when she finishes her education.
Some of University students who raised the funds pictured with Ramya (in red)
The remaining money has been given to sponsor a surgery at AIMS Hospital of a one and half old child named Mahendra, who has been diagnosed as having a hole in his heart.
—Tulasi