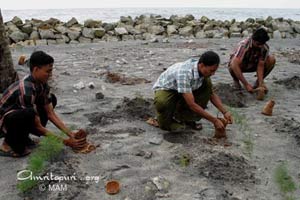 17 August 2005 — Alappad Panchayat, Kollam District, Kerala
As the sun set on the beach in Cheriya Azhikkal–a village in Alappad Panchayat, five kilometres from Amritapuri–villagers gathered to plant hundreds of small casuarina saplings (Australian pine). The saplings are being planted with the aim of curbing erosion caused by high tides and to protect the villager's homes from future tsunamis.
"I'm hear to protect the future," said one woman wearing a brightly coloured sari who was participating in the mass planting.

"I'm happy to be here because we're doing something for our children," said another.
Since June 5th 2005 (World Environment Day), this scene has been repeated over and over, again up and down the coast of Alappad Panchayat. Spearheaded by the Ashram, the project—Harita Theeram, or Green Shores–will see the planting of 300,000 casuarina saplings in total on the Alappad Panchayat peninsula by 2008. Fifty thousands have been planted in the past three months alone. The saplings are being supplied by the Kerala Department of Forestry.
– Tulasi