Kavre was one of the most affected districts, so much so that in the first photo you can see Shri. Upareti ex-Labour Minister of Nepal receiving blankets and windcheaters and afterwards tin sheets from us. His houses in the village were totally devastated. He was so moved by our help that he declared that he would come to Kerala to express his gratitude to Amma for helping in this hour of need. Again, even before we packed and left for the next village people had already started using the tin sheets as roofing over makeshift bamboo frames they had put up.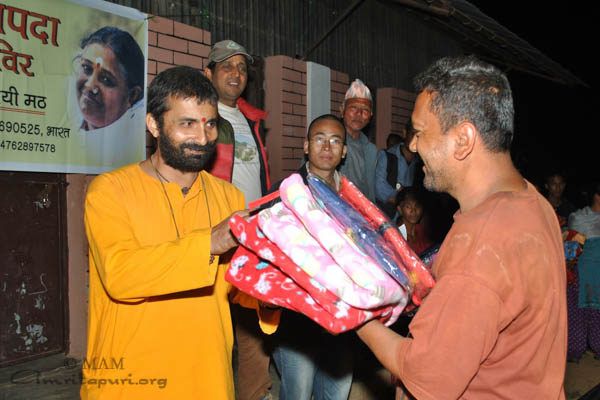 The next place we covered was Kudari Gaon in which hundreds of affected had been shortlisted to receive aid from us. The villagers were very grateful to us and honoured our representatives with scarves as is the local custom.
Maadan Kudari Gaon Ward No. 4,5,6,7,8
4 – Kudari Mathilo Tol
5 – Kudari Tallo Tol
6 – Bhidantali Tol
7 – Taadi
8 – Chaula Tol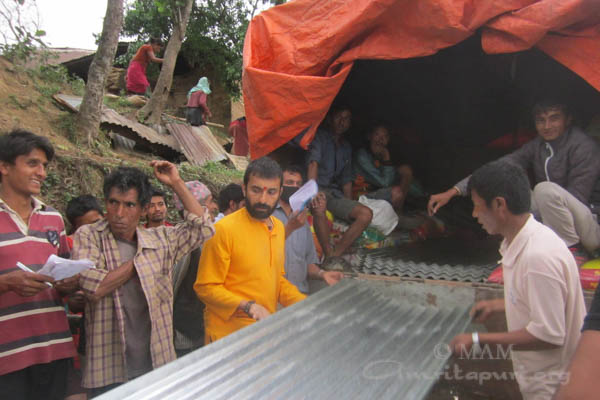 The Hon'ble Prime Minster welcomed Amma's international organisation to Nepal and requested to continue its relief and rehabilitation activities in affected areas of Nepal.
– Dass