In the initial days of the Nepal Earthquake, we were able to extend help to our brothers and sisters in Bhaktapur, Sindhupal Chowk and Kavre districts.
Bhaktapur District
Rice, Dal, Cooking Oil, Soap as well as Biscuits
With the help of the Nepalese army as well as local youth clubs, the ashram volunteers were able to reach out to a huge number of affected people. Tracts of Bhaktapur looks like a war zone with whole building blocks razed to the ground. It was saddening to see the army digging for bodies on one side as the displaced survivors rummaged in the rubble trying to scavenge what little food or furniture or building materials they could. Death on one side and an endless urge to live and survive on the other – seemed to sum up the human condition.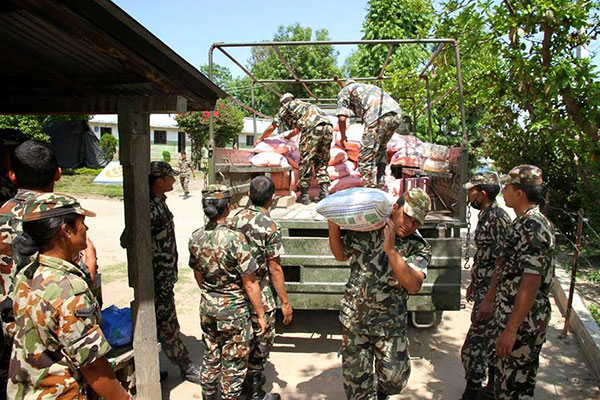 The army personnel helped in everything – from purchase of the materials, to stock maintenance and then finally disbursement as per needs to the different refugee camps.
We were able to provide Rice, Dal, Cooking Oil, Soap, and even biscuits for children in these camps. Hundreds of families were benefitted here. The people were very grateful especially as they learnt that ashram situated in Kerala was extending help to them in Nepal.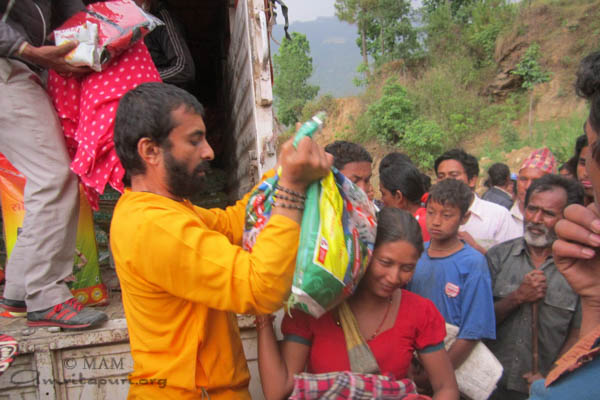 1. Baudh Vihar camp
2. Korean Hospital
3. Bhulangkhel
4. Saraswati Khel
5. Tikani
6. Niko Sera
7. Sipatol
8. Mount Sinai School
– Dass