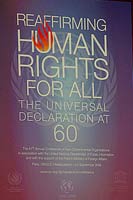 From September 3rd to 5th a conference was held at the UNESCO Headquarters in Paris to celebrate the 60th anniversary of the Universal Declaration of Human Rights organized by the Department of Public Information (DPI) in co-operation with the Non-Governmental Organizations (NGO) community. Over 1,100 representatives from 65 countries attended this year's Conference .
A team of four people represented the Mata Amritanandamayi Math (MAM) including a representative of AYUDH, the youth wing of MAM at the conference.
MAM helped with the preparations on the Planning Committee, and co-moderated a Break-out session planned by the Outreach Committee titled: From Vulnerability Toward Empowerment, exchanging personal experiences and knowledge on the path to empowerment.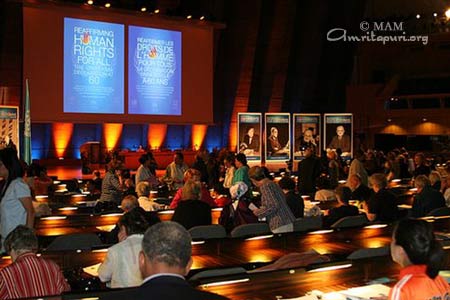 The MAM made a compelling presentation on the Farmer Relief Project at this break-out session.  The initiative was noted as a best practice to empower populations in extreme poverty and restore their Human Rights. And it is not surprising that the work of the Math was cited at the DPI conference in Paris as a best practice in advancing Human Rights.
The conference was a great opportunity for networking with other NGOs and informing them about the vast range of Amma's charitable projects.The Friendship Ambassadors Foundation invited AYUDH to attend the International Youth Conference at the UN in New York City in August 2009.
– Tulasi