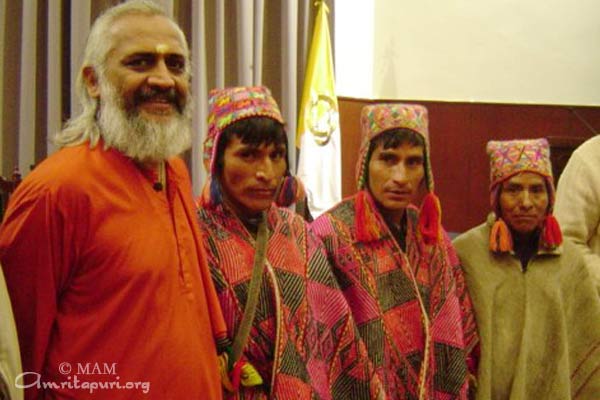 23-24 September 2008, Lima, Peru
Swami Ramakrishnananda Puri who is on his South American tour, visited Peru. He is the first ashram representative to visit this country.
On the first day of his visit Swami participated in a 3-day conference on Indian culture held at the Center for Oriental Studies at the Pontificia Universidad Catolica del Peru.
He addressed a full hall of professors and students about spirituality and religion.
That evening Swami was formally welcomed to Peru by the honorable Indian Ambassador, Mr. A. Ramesh as well as several representatives of the Indian community in Lima.
The following morning a traditional Andean ceremony was performed in Amma's honor by members of the Q'ero Nation in the ancient temple of Pachacamac (this was the site of the principal Incan temple in this part of Peru, built more than 1800 years ago)  just outside the city of Lima.  It was touching ceremony by which the native Andean priests offered their respects to Amma.
Swami's visit to Peru concluded with a public program on the 24th evening at the Weiner University campus in the heart of Lima.  Swami introduced the citizens of Peru to Amma's teachings, speaking on the importance of having a healthy mind.  He told the enthusiastic crowd that with a healthy mind people are able to face all difficult situations that may arise.  "One need only look at the example of Amma's life to see how she was able to overcome all the obstacles she faced with a positive attitude."
— Das
watch the pictures here