14-15 Jan, Chennai, Tamil Nadu – Bharata Yatra 2015
After a gap of two years Amma visited her Chennai ashram for a Brahmastanam Festival on Jan 14 and 15.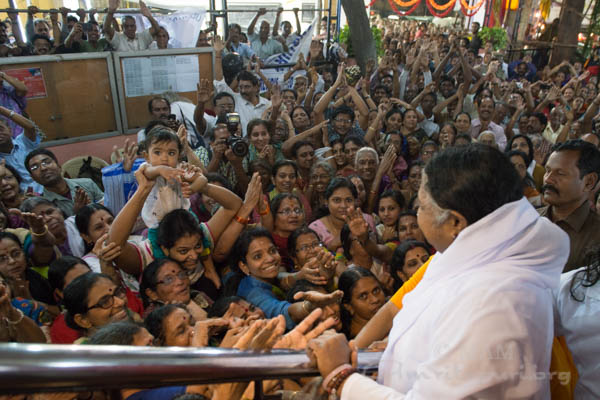 The day Amma arrived, Jan 13, was the day prior to the Pongal Festival. As Amma was serving dinner to everyone, she asked the devotees to tell spiritual stories and speak about the deeper significance of Pongal.
After her bhajans, satsang and manasa puja on Jan 15 Amma herself gave a special Pongal message to all devotees. Speaking in Tamil, she said:"'Pongal' means 'overflow'. It is a symbol of man's overflowing love towards nature and nature's overflowing love towards man. It is also a festival of harvest: with good thoughts and actions man worships nature. In return, nature gives her blessings in the form of a good harvest. Thus the individual mind and the universal mind overflow and become one. Pongal is a symbol of that oneness. The real Pongal is when our hearts overflow with love and compassion through good words and actions. Then only we will lift ourselves from manhood to godhood."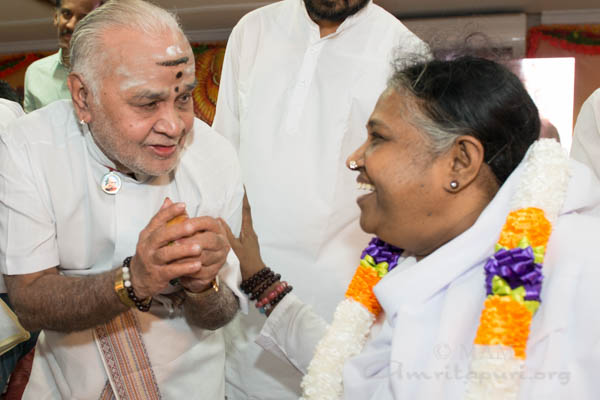 Due to the holiday period, the programmes in Chennai were even more crowded than usual. Thousands of devotees came to seek Amma's blessings and divine inspiration.
The two day festival turned out to be a true celebration of Tamil culture and arts. Many renowned artists came to pay their tribute to Amma and delight the audience with a display of their respective form of art. Amongst the performers were Grammy Award and Padma Bhushan Award winner Sri. Vikku Vinayakaram (playing ghatam, a traditional mudpot instrument), Padma Vibhushan Award winner Sri. Umayalpuram K. Shivaraman (mridangam), Kalaimamani A. Kanyakumari (violin), Satish Kumar (mridangam) Kalaimamani G.J.R. Krishnan (violin), Dr. Ganesh (vocal), Smt. Jayalakshmi Sekar (veena), Sri. G.R.S. Moorthy (veena), A.S. Ram (carnatic keyboard), playback singer Smt. Binny Krishnakumar as well as renowned musician, director and playback lyrics writer Gangai Amaran. An impressive Kuchipudi dance performance was given by Kalai Mamani Sri Murthy.
For the two days of Amma's visit, the vibrant buzz of Chennai city was enriched by a much more profound and uplifting kind of buzz: the vibration of pure love, the joy of selfless service and the beauty of celebrating our unity in diversity.
– Kannadi