On the auspicious occasion of Swami Vivekananda's 152nd birthday, January 12th, Amma held the first public program in the city of Erode, Tamil Nadu. The event was held at the Vellalar College grounds – a huge field overflowing with thousands of devotees, gathered to partake in Amma's satsang, bhajans, meditation and darshan.
Erode is one of the most fertile and prosperous cities in Tamil Nadu, well-known for its worldwide export of turmeric and textiles. The residents of Erode are also known for their gentle and peaceful nature, which reflects in the low crime rate of the city. Indeed, throughout the program a silence and peace was palpable in the crowd.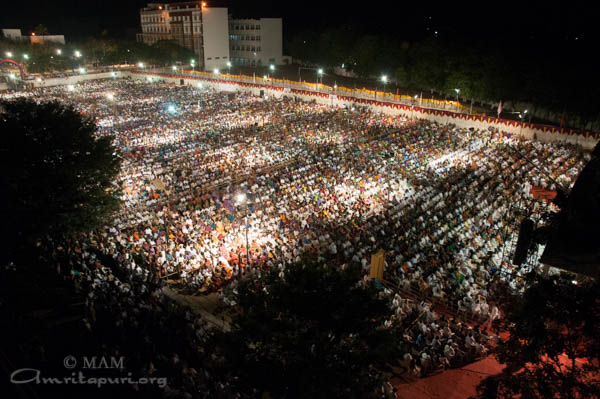 Among the dignitaries attending the public function were EVKS Elangovan, Congress Committee President and former Central Minister; S.K. Mayilanandham, president of the spiritual organization Vedathri Maharishi; and C. Swami Nathan, Vice-chancellor of Periyar University.
Speaking on the occasion, Elangovan said: "Amma is the foremost in spirituality. As a politician, even five minutes of public reception to me is hard. However, Amma has hugged 4 crores of people. That tells me that she is not an ordinary person. I am astonished by her actions – whenever you take the name of Sanyasis, they usually differentiate between themselves and others, and even when they give prasadam they wont touch them. No matter how poor you are, , how dirty ones clothes and how sweaty, Amma hugs all and gives them blessings. I cannot describe her selfless service in words. Doing good for everyone is her seva – and that seva is flawless."
To the delight of the devotees, Amma led the Manasa Puja in Tamil and also sang many new Tamil bhajans.
May the seeds of Amma's love, which fell so abundantly onto the fertile ground of Erode, unfold and grow into trees of compassion.
– Kannadi