October 23-25 – Houten, Netherlands, Europe Yatra 2014
Amma was welcomed at the Expo Houten in Houten, Netherlands on her arrival from Paris by devotees with sparklers in their hands, chanting, "Happy Diwali Amma." Amma too joined in the celebrations by waving sparklers with them. Though Amma had arrived after a marathon darshan in Paris, she spent time with everybody, distributing cookies to all those present. Lucia Rijkers, the former women's Boxing World champion, welcomed Amma to Netherlands with a flower garland.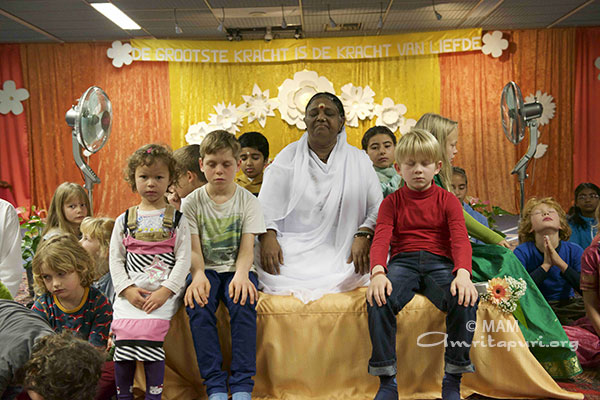 De Telegraaf, the largest newspaper in Netherlands, covered Amma's visit and Belgium VRT1 TV carried a programme on Amma during Her programme at Expo Houten.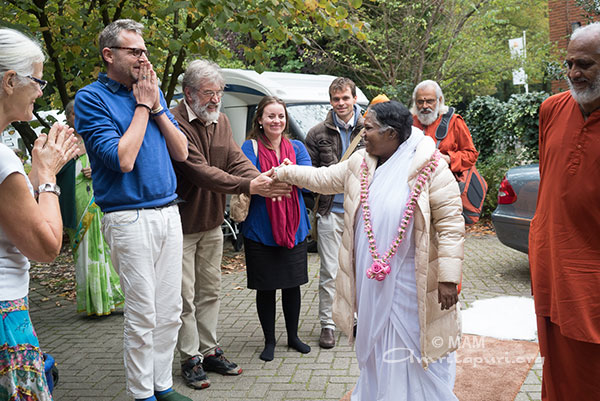 After the programme, Amma visited the new Netherlands ashram, located at Zeist. Inaugurating the center, Amma said, "May my children work together in the spirit of love and unity which will help us to contribute more and more to society. Let us not look into the drawbacks and shortcomings of others. Let us instead reflect within and work upon our own shortcomings. We should never forget the language of love, patience and forgiveness. All of you have the potential within to do great things. We need to remember that we are not candles to be lit by somebody else. We are the effulgent sun; we are the embodiments of the Supreme Love and strength."
She also served food to hundreds of devotees present there and sang bhajans with them, leaving each one fully saturated with love. The memories of this visit of Amma to their new ashram will remain etched in the hearts of the devotees who were present that day.
– Kannadi