Tokyo, Japan- 19-21 May 2014
Amma began her 2014 summer tour by making her 24th visit to the island nation of Japan. Soon after landing at Narita airport in Tokyo Amma was greeted by overjoyed devotees who offered garlands and flowers as a sign of their gratitude and respect.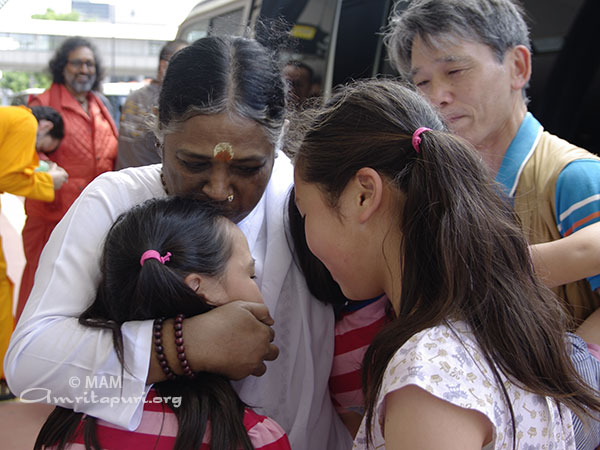 For the next three days Amma held public programs at the Tokyo Ryutsu Center (TRC) in Tokyo. Each day hundreds of devotees lined the way from the entrance of the building to the program hall with hearts yearning to get an embrace from Amma after one long year of waiting. The programs began each day with Amma conducting a guided meditation session and continued with Amma giving darshan to all the devotees present in the venue and leading evening bhajans. In Her satsang, Amma once again reiterated the need to bring back values to the society.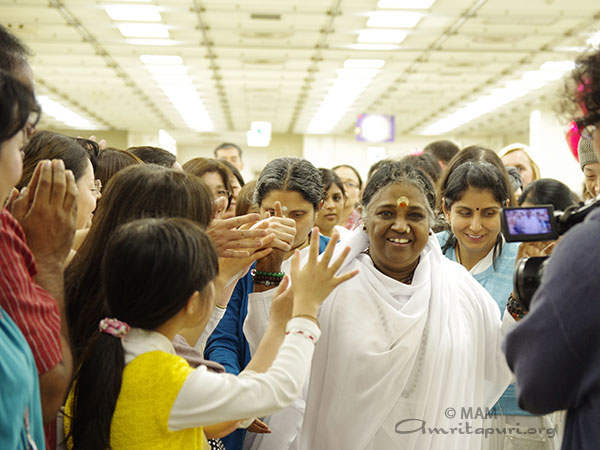 Japanese devotees organized a beautiful set of cultural programs that were performed during throughout the three days, including a meditative dance performed to the background of melodious flute and other native dance forms as well. Additionally, during the darshan, satsang groups from all over Japan sang bhajans.
Her Excellency Deepa Gopalan Wadhwa, the Ambassador of India in Japan and Her Excellency Elisabeth Bertagnoli, the Ambassador of Austria in South Korea, officially welcomed Amma to Japan. Amma's work in providing disaster relief, education, health care and housing to millions around the world was lauded by Ms. Deepa Gopalan. In her speech, Ms. Elisabeth Bertagnoli expressed her gratitude towards Amma for coming to Japan and hoped that Amma's message of love will bring peace to this region, which has been witnessing lot of tensions recently.
From Tokyo, Amma traveled on to the United States and will continue the tour in Seattle, Washington.
– Tulasi