​Amma Addresses 2,000 10th Standard Students as Part of Sadgamaya Summer Camp
May 10, 2014 – Amritapuri
There are two types of education: education for earning a living and education for life. When we study in college, striving to become a doctor, a lawyer or an engineer—that is education for earning a living. But education for life means learning how to lead life, how to overcome obstacles in life without losing enthusiasm, how to live for the benefit of society and for the world. For this, we need to develop spiritual understanding: a deeper understanding of the world, our minds, our emotions and ourselves. Most people learn about the external world, but never try to learn about themselves.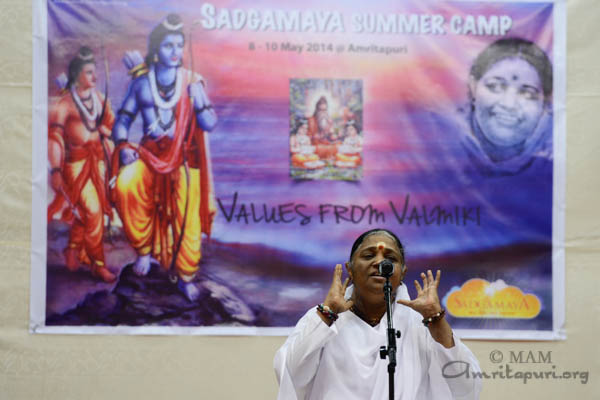 Our school years are an occasion to imbibe good lessons and create the foundation for a good life. We can learn not only math, science and English, but other important lessons as well—lessons of friendship, cooperation, compassion, discipline, obedience, respect for elders, patience, speaking kind words, not wasting… There are so many such good lessons to learn. We can learn these things not only from our teachers but also from our friends and our own contemplation.
In fact, the important thing is to maintain an enthusiasm for learning throughout our life. Even in failure , there is a lesson to learn. Understand it and move forward. In fact, if we can cultivate faith, enthusiasm and patience, we will never really fail in life.
The purpose of education is not to just create people who can understand the language of machines. The primary thing to be attained is samskara—spiritual culture. This is being forgotten. For mere sophistication, education is not required. Even tribal populations are proud of their tastes and fashion.
In certain circumstances in life, we have to say "yes." In others, we have have to say, "no." Currently we are saying "no" to the things to which we should be saying "yes" and vice-versa. This is creating many problems for us. The Ramayana and Mahabharata teach us about this.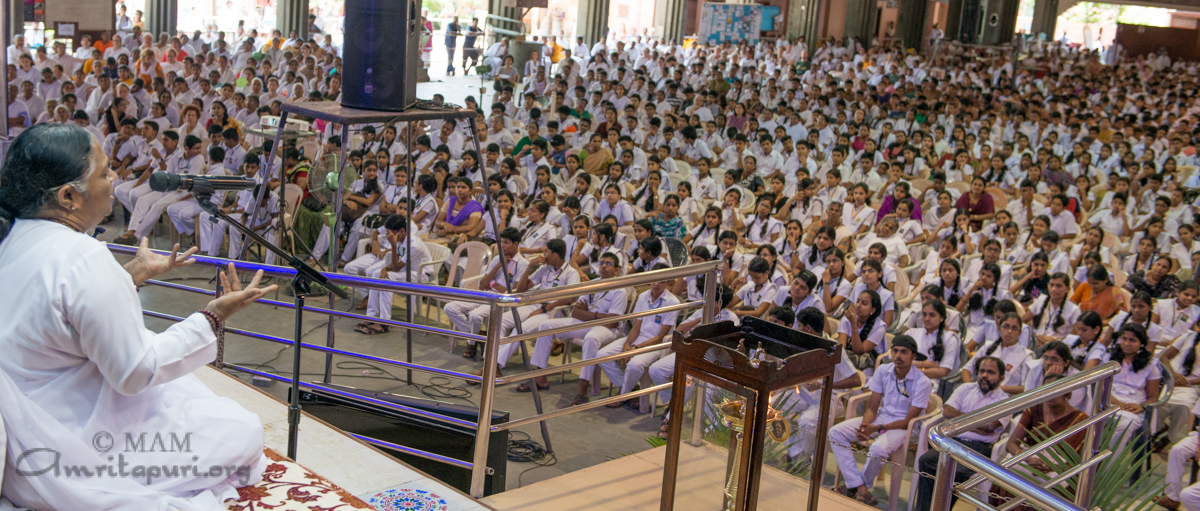 A compassionate heart helps us become a vessel that is capable of receiving God's grace. Those who remove thorns from the paths of others are in fact also showering flower petals upon their own path. We should always maintain the humility of a beginner. Only a beginner can grow. Along with this, we need optimism and to put in effort. If we have these, we will go far in life.
(Excerpts from Amma's message to the students)