10 April, Kambam, Tamil Nadu – Bharata Yatra 2013
It was Amma's first visit to Kambam, a small town located in the Theni District of Tamil Nadu. Not far from Kerala's Idukki district and Periyar river, Kambam is a valley surrounded by hills, in which agricultural activities is the main resource.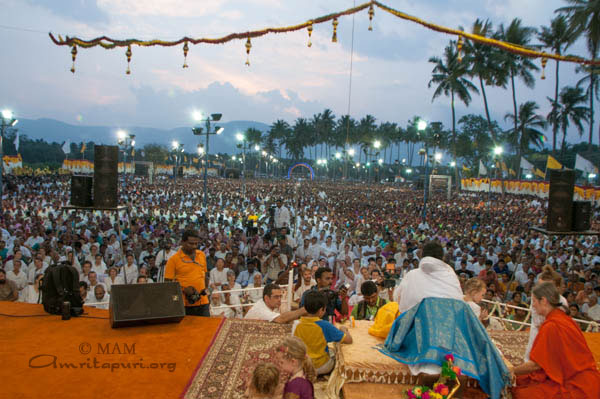 The name Kambam has derived from the famous temple of Lord Narayana (Cumbaraya Perumal) around which the town has been built.
Amma's visit was a big event for all the people of Kambam, from early afternoon they started flocking to the outdoor program venue, with their families and children. When Amma reaches around 6:30pm, there was a sea of humanity gathered at the place. It was a delight to witness the innocence and devotion of this crowd.
Brief ceremonies were conducted on the stage in the presence of Swami Omkarananda and MLA Ramakrishnan. In his remarks, Swami Omkarananda of Chitbhavananda Ashram, Teni commented, "I welcome Amma who is the embodiment of Parashakti to Theni district. Many mahatmas are born in this country. They go beyond all the obstacles and they remove the problems of the people. Like the spring season, mahatmas bring happiness and joy to the people. The spring season is about to come but for you all the spring has already arrived in the form of Amma. I pray to Amma that may this spring season be permanent in your life."
In his remarks, MLA Ramakrishnan shared, "Kambam is blessed today since Amma's holy feet have touched this land. Not only this land but also the air, flowers, trees and the human beings are also sanctified by Amma's visit to Kambam today. I welcome Amma with all my heart to this town."
After the official function, Amma sang beautiful bhajans followed by a satsang translated by Swami Ramakrishnananda, and a meditation guided by Amma herself using the Tamil language!
When darshan started a huge crowd was facing Amma and the stage. She literally started 'swimming in the sea of people'…, Her loving, blessing and hugging covered the whole night, up till around 9:45am the next morning!
Simultaneously, all night long, various traditional dances and performances, particular to the area, were held on the stage.
As soon as Amma finished darshan and left the stage, she gave instructions for the 600 members of her accompanying traveling ashram to pack and move to the next city– Madurai.
– Tulasi