7 – 8 April, Coimbatore, Tamil Nadu – Bharata Yatra 2013
On the first day of the programs official ceremonies were conducted as Amma reached the stage in Coimbatore.
Tamil Nadu State Agriculture Minister S. Damodaran released the book, Spirituality and India in Tamil. Tamil Nadu MLAs, T. Malaravan and Arukutty Gounder released the souvenir of the Brahmasthanam Celebration.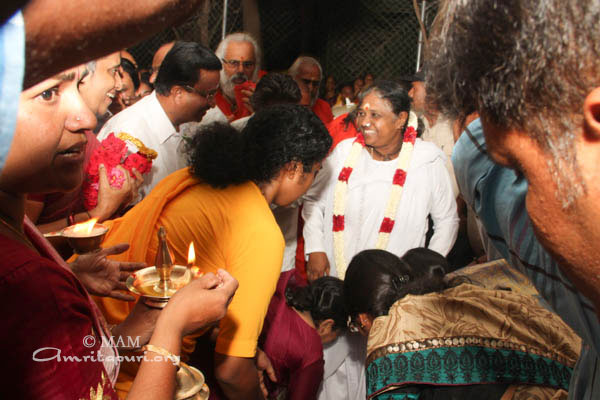 Bhajans, Amma's satsang, guided meditation and prayers followed before Amma started giving darshan to one and all. The manasapuja was lead by Amma in Tamil.
On both evenings of the Coimbatore programs, devotees from Ooty shared traditional dances to the tune of songs to the Divine Mother, delighting one and all. Students of Amrita Instituions also presented various cultural programs.
The next day, Amma's darshan finished at 4:30 am with Amma extending her time of presence on the stage to sing sprightly bhajans with one and all. Happiness and joy filled the hearts of all.
If the Brahmasthanam festival held in Ernakulam 10 days earlier had an AIMS family flavour, the one in Coimbatore had surely an Amrita Institutes flavour…
Like it had been for the previous 3 stops of the Bharata Yatra, upon her arrival Amma went straight to the unfinished stage as soon as she reached the place. Food was served to all present. Behind Amma two crews of plate fillers worked at super speed to have the plates ready for Amma to pass on to the public. After the prayers and while all started eating the delicious Prasad dinner, Amma offered the chance for the people present to share their feelings and stories. This ended with beautiful bhajans led by Amma.
– Tulasi