13 Feb, Talassery, Kerala – Bharata Yatra 2013
On 12th February, when Amma reached the Talassery ashram, she was welcomed by devotees, eagerly waiting to catch a glimpse of her, before next day's programs. The scenes of her arrival and the love of the devotees was very touching to witness as always. Amma slowly made her way to her room surrounded by the crowd of adoring hearts.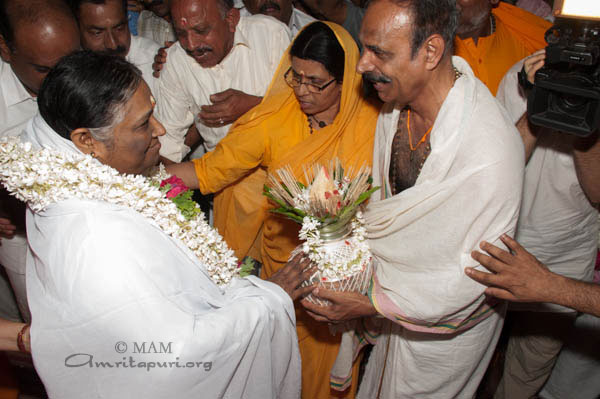 Few moments later she emerged out and went straight to the roof where she had invited all the devotees and the tour group for a dinner/bhajan time. Plates were passed around by Amma, while she was simultaneously giving directions to create space for everyone to fit in the place. After dinner, Amma sang bhajans, then she asked for ashramites to tell jokes and make everyone enjoy a moment of laughter and lightness.
It was passed 10pm when this memorable and precious time took end, with Amma commenting on various practical spiritual topics. As Amma headed for her room, everyone left the roof with happy and fulfilled faces and hearts.
Next day morning, Amma came to the stage around 11am. An Indian Olympian athlete PT Usha and R Arunachalam, Mahe State Administrator, were invited to the stage, as Amma distributed Amrita Nidhi pensions. Seeds to cultivate organic farming were also distributed to devotees.
Amma lead a beautiful bhajan session, followed by a satsang, meditation and prayers. Darshan went on throughout the afternoon, evening and passed midnight, ending around 3.30 am.
The children from Amrita Vidyalayam offered many dancing performances.
-Kannadi