15 February, Kozhikode, Kerala – Bharata Yatra 2013
When Amma arrived in Kozhikode there was an enormous crowd waiting to greet her.  Traditional drums were being played and the crowd loudly chanted as Amma walked through the throng of devotees, touching their hands as she moved. Some were in wonder, some were in tears, some were screaming Amma's name and some were silent.  To everyone's surprise rather than going to her room, Amma asked all the people to assemble in the hall and proceeded to distribute dinner to the over 3000 people that were there to welcome her.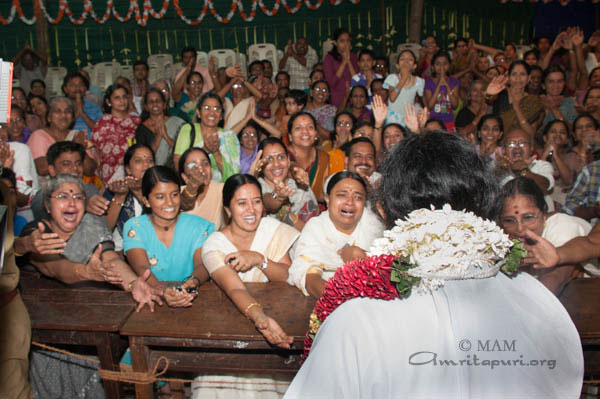 During the two days of programs there was a huge turnout of people for darshan. On both days Amma sang bhajans, gave satsang and led all in meditation on the stage decorated with a beautiful golden border adorned with peacock feathers.
On the first day Amma extended the Amrita Nidhi pension program to local ladies and distributed seeds to promote organic farming.
At the end of darshan on the final day, Amma sang Tanana Tanana and Mayyaji Menu.  At 5am while Amma sang the entire hall was still packed full of clapping and cheering devotees, soaking up the last minutes of their time with Amma.
– Kannadi