Amma in Mananthavady
5 Feb Manathavady, Kerala – Bharata Yatra 2013
On the way from Mysore, Amma and the tour group stopped just outside Bandipur National Park for tea. Bandipur is a protected wildlife sanctuary home to tigers, leopards, elephants and other wildlife. Amma sat with everyone in a clearing and held satsang and sang bhajans, and gave many the opportunity to share their experiences from the tour. After the stop, the road to Mananthavady traversed the national park and people were treated with sightings of wild elephants, monkeys, herds of spotted deer, and peacocks.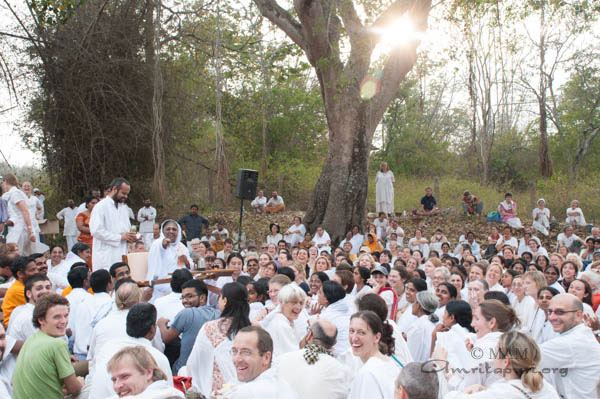 Upon her arrival to Mananthavady, large crowds of devotees were lined up to greet Amma. Some were cheering, some were crying, some were singing Amma Amma Taye, while Amma slowly made her way and gracefully look at each one of them as she made her way to her room. Before going to her room she looked down from her balcony and showered flower petals on those down below as they sang to her. Its was a beautiful moment to see, a surge of love in the hearts of the devotees and a shower of compassion from Amma.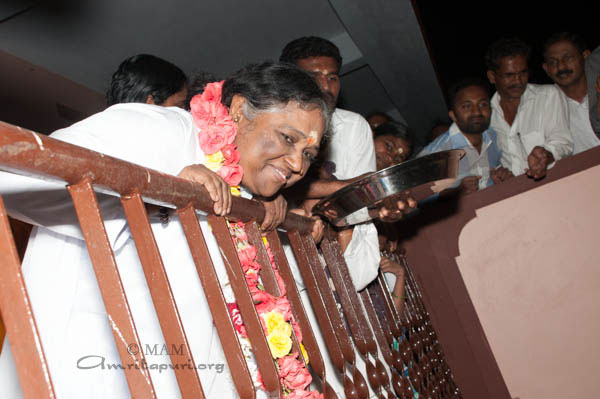 The Mananthavady Ashram is located high in the forested hills of Kerala. Amma held a one day program with satsang, bhajans and darshan. As an extension of the Amritanidi program, pensions were distributed. The emotion and gratitude of the recipients was very touching to see as many of them were in tears when they received their pension from Amma.
During darshan the students of Amrita Vidyalayam presented several different cultural programs. Their portrayal of the Ramayana epic was exceptional.
The simplicity and innocence of the local devotees and the beautiful mountain climate made Amma's visit a memorable one.
– Kannadi