Christmas Eve 2012 in Amritapuri was celebrated in full style. All around the Ashram one encounters sights and sounds reflective of the Holiday Season. At the base of Amma's home, a beautifully decorated Xmas tree stands filled with festive ornaments, including a small Nativity scene, and the staircase leading up to Her room is adorned with holiday symbols. Around 10pm, Amma arrived to a packed main hall to watch a cast of 150+ from all around the globe perform in a play called 'God is Able'.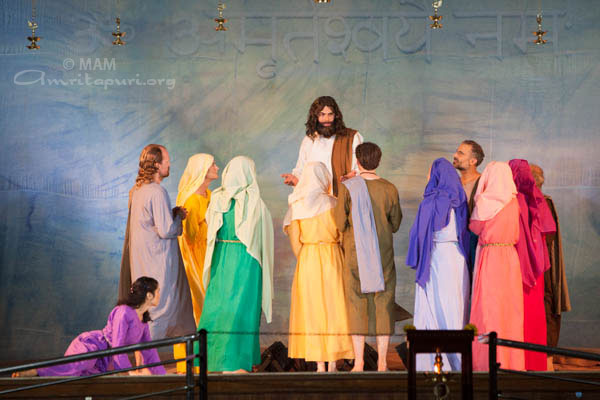 The curtains opened to a preacher proclaiming to his flock that God is Able to do All Things. The play then went on to demonstrate this truth through three separate stories. The first was the story of how God parted the Red Sea for Moses and the Hebrews to pass without harm as they were being chased by Pharaoh and his army. The second story also came from the Bible: a young woman, suffering from a paralyzing affliction, is healed simply by touching Jesus' robe. The last scene focused on a young homeless boy who had stolen bread to feed his hungry friends. He was brought to trial, but the charges were dropped by a sudden change of heart by the shop owner. In all cases, faith that God is Able to do all things carried the main characters through their trials and tribulations.
The performance was the culmination of almost a year's worth of work by dozens of devotees – writing the script, scoring the music, designing and making the costumes, making the props and scenery – as well as weeks of rehearsals. Their efforts resulted in a beautiful and heart warming performance which ended with the cast singing a rapturous tune calling out to God:
Amma we stand here
in need of a blessing.
We know we are not worthy
of all you have to give.
But as God incarnate
as true compassion,
You are Able to do All Things.
Afterwards Amma gave her Xmas message. She said: "We do not know who will come knocking on our doors in search of our compassion, love and kindness. But if our mind is ruled by ego and selfishness, we will shut our doors and deny even the son of God a place to be born. Who knows on whom we are shutting our doors of compassion? Perhaps that person is destined to be our saviour in the future. On the other hand, whenever we become humble, whenever we find a place in our heart for others, there Jesus Christ is born."
"The star and tinsel of Christmas, the cake we cut and distribute, and the gifts we exchange enhance the festivity and beauty of the occasion. But all these are external customs. All these do not make Christmas complete. What we have to do is to build a home for Christ in our hearts, with our prayers as its pillars, the sacrifice we practice as its roof. We have to make the bed of the Lord with our compassion. The food we prepare for him should be Love," Amma reminded all. Her message was displayed on large screens in seven languages [English, Spanish, French, German, Italian, Finnish, and Russian].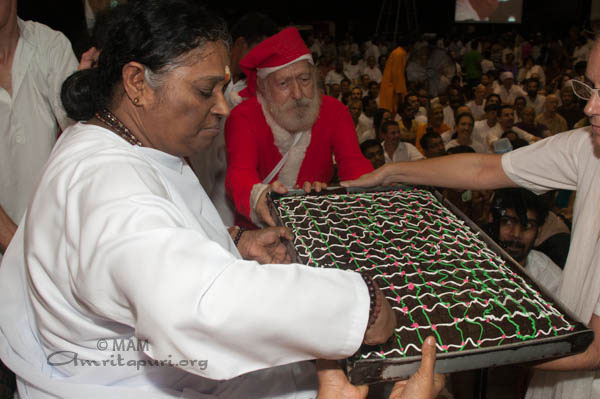 Amma then brought down the house with ecstatic singing. Many were on their feet dancing – Indians and Westerners alike. While Amma herself didn't dance, her hands were clapping and arms moving with so much bliss and energy. It went on for about 1/2 hour, after which Amma led all in chanting Lokah Samastha Sukinau Bhavantu before blessing the Xmas cake which was distributed to all.
–Sri