The 59th birthday of world-renowned humanitarian and spiritual leader Amma, Sri Mata Amritanandamayi, will be celebrated on September 27, 2012 at Amritapuri, Kollam in Kerala. As has always been the practice, the occasion will see the launching of several new charitable initiatives of the MAM, as also the extension of some of the existing charitable programmes. The total cost of these programmes this year is estimated to be Rs. 25 crores. These programmes include: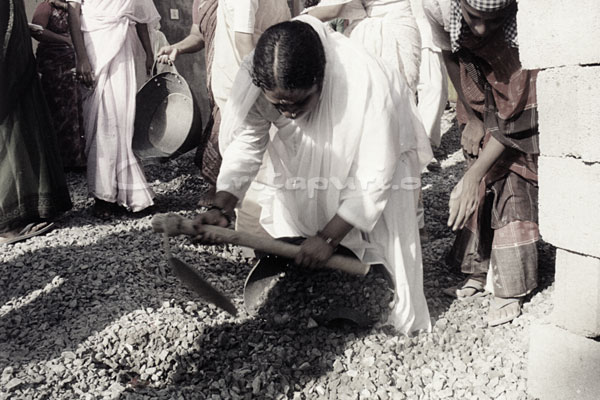 1) 200 Free heart surgeries & 50 free kidney transplants:
200 free heart surgeries and 50 free kidney transplants will be available at Amrita Hospital in Kochi for poor patients across the country. People living below the poverty line will be given priority. The families availing free kidney transplants will have to find the organ donors themselves.
Since Amrita Hospital's inauguration in 1998, MAM has provided crores worth of charitable care to 27.8 lakh poor people hailing from various States.
2)500 Free houses for the homeless:
500 free homes for the homeless constructed for the poor throughout Kerala. Amrita Kuteeram, free homes for the homeless, began in 1998. Since then, MAM has constructed more than 45,000 houses for the poor which includes more than 6,200 houses for the Tsunami victims (2004). (Ninety-six more houses were built in Sri Lanka by another organization of Amma's devotees.) In addition to Kerala, MAM has built Amrita Kuteeram houses in more than 75 locations in Rajasthan, Uttar Pradesh, Madhya Pradesh, Gujarat, Maharashtra, West Bengal, Andhra Pradesh, Orissa, Pondicherry, Karnataka, Andaman-Nicobar Island and Tamil Nadu. Most recently, MAM completed 1,000 homes in Raichur for the victims of the 2009 Karnataka floods.
3) Financial aid to families who lost someone or had someone seriously injured by explosions in Kannur & Sivakasi:
MAM will provide Rs. 1 lakh to families who lost someone in either the LPG-tanker explosion in Kannur, Kerala or the fireworks-factory explosion at Sivakasi, Tamil Nadu. A sum of Rs. 50,000 will be provided to families who have someone seriously injured in the explosions as well.
4) Extending the reach of the Amrita Nidhi pension programme:
MAM will extend the reach of its all- India Amrita Nidhi programme which has been providing lifetime pensions to widows and mentally and physically challenged individuals since 1998 by bringing in an additional 3,000 recipients. This will increase the reach of the programme from 55,000 to 58,000 beneficiaries. The Amrita Nidhi programme is active in majority of states throughout India.
5)Extending the reach of the Vidyamritam scholarship programme:
MAM will also extend the reach of its Vidyamritam scholarships-for-the-poor programme to cover an additional 3,000 students, taking its total of beneficiaries from 37,000 to 40,000 across the country. The intention of this initiative started in 2007 in response to the farmer suicide epidemic, was to help lay a stronger economic foundation for impoverished agricultural families. Beneficiaries come from the states of Maharashtra, Andhra Pradesh, Karnataka and Kerala. Many of them are children who have lost one or both parents to suicide. The children (ages 10 to 15) receive a monthly stipend until they finish their education. Vidyamritam is a permanent humanitarian programme of MAM, with new students taking over the scholarships of graduates.
MAM is globally recognized as an International NGO that has been conferred with 'Special Consultative Status' by the United Nations. All of its charitable programmes are equally open to people of all castes, creeds and religions.