7 April 2012, Penang, Malaysia
While Amma has been visiting Malaysia since 2002, until now her only stop had been in Kuala Lumpur.  For the first time Amma traveled to the north of the country and held a program in Penang.
Huge crowds began forming in the early in the day for the evening program.  By the time Amma arrived on the stage at 7pm the cavernous Penang International Sports Arena was completely filled with people waiting for their first glimpse of Amma.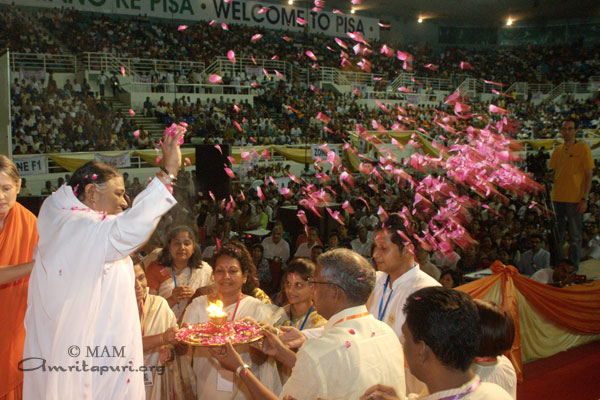 Amma arrived to the hall and walked the stage accompanied by several different local musicians, including traditional Chinese and Indian drummers, reflecting the diverse cultural heritage of Penang.
Upon reaching the stage Amma was officially welcomed by the Chief Minister of Penang, Mr Lim Guan Eng.
Mr Eng said…..  "Penang is finally blessed. We are again honoured by the presence of one, who not only practices these beliefs but gives all. In her presence hope that we too can achieve all that. Your dedication and charitable works are known far and wide, I am sure it has given hope to mankind. Penang welcomes you with open heart just as you embrace us with open arms, I thank you again for your presence and hope you will return again soon to Penang."
The CM then assisted Amma in handing out scholarships to local children on behalf of the Amriteswari Foundation of Malaysia and releasing the official program souvenir.
After satsang and bhajans, Amma led the manasa puja in Tamil to the delight of the predominantly Tamil speaking local crowd.
Amma finally ended the program at 2pm the following day on Sunday April 8 after being on stage for more than 19 hours continuously.
She then immediately traveled south the capital of Kuala Lumpur where the next program will be held tomorrow.