9 April 2012, Kuala Lumpur, Malaysia
2012 marks 10 years since Amma's first visit to Malaysia.  The one common factor in all of Amma's visits to Malaysia is that there are always big crowds.  This year was no different.  First with the incredibly large program in Penang and again tonight where people came out in droves to the Putrajaya International Conference Center in Kuala Lumpur.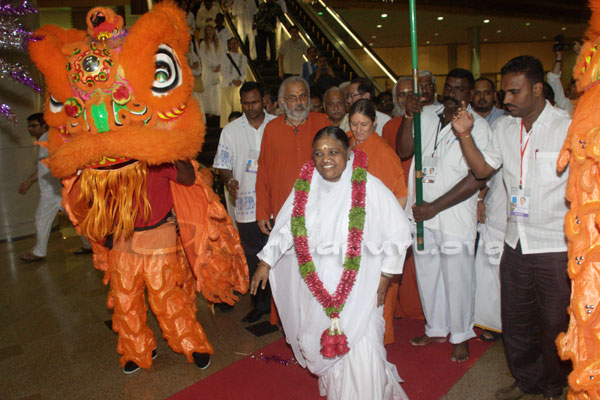 Traditional Lion Dancers performed as Amma entered the venue and a drumming troupe led Amma to the stage.  On the stage Amma was officially welcomed to Kuala Lumpur by Senator Tan Sri Dr Koh Tsu Koon, Minister in the Prime Minister's Department and by Dato Devamany, Deputy Minister in the Prime Minister's Department.  In his welcome address Senator Tan Sri Dr Koh Tsu Koon said,  "I am very glad and grateful to be able to join you this evening, and to witness for myself the love and compassion of Her Holiness Amma. No matter how much formal education we get, which will enable us to gain knowledge and information, we need spiritual guidance to make our life meaningful. The seemingly simple hug by Amma, enables us to embrace compassion and love and more importantly the spirituality. So we are fortunate to have, in this world, for this present moment, and for the past decade the guidance as well as the inspiration by Amma, as an international messenger, preacher and practitioner of love. Amma, on behalf of all the people of Malaysia and especially the people of Putra Jaya the seat of government, I would like to extend a very warm 'SELAMAT DATANG' Welcome to Malaysia!"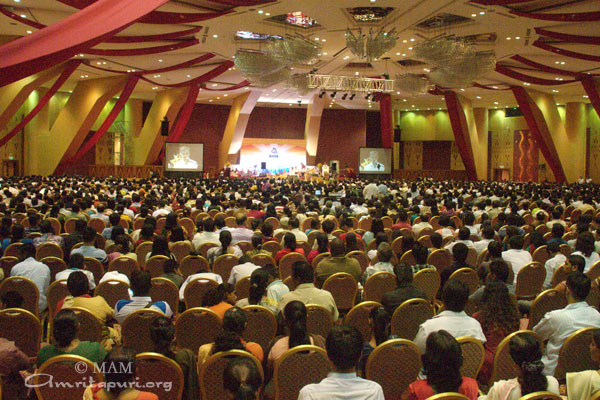 During the program Senator Tan Sri Dr Koh Tsu Koon helped Amma to distribute new wheelchairs on behalf of the Amriteswari Foundation of Malaysia to representatives from several local care homes.  Then Amma and Dato Devamany distributed care packages consisting of school uniforms, backpacks, shoes, and other school supplies, to local underprivileged children.
Amma then gave her satsang which was translated into English and Tamil followed by bhajans.  She then led the manasa puja in Tamil.
The darshan finally ended at 11.15 the next day, after being in the stage for more than 18 hours straight.
The next program is in Melbourne, Australia on April, 12th.