3-5 April 2012, Singapore
Amma held 3 days of programs in Singapore at the Marina Bay Sands Convention Center where huge crowds turned out to receive her blessings.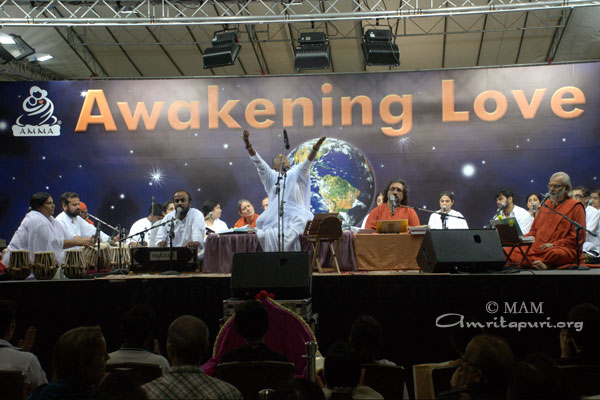 A host of dignitaries were present to welcome Amma to Singapore, including Mr Benny Zin, COO, of the Marina Bay Sands. Other dignitaries welcoming Amma included Mr Neal Chandaria, Honorary Consul of the Republic of Kenya. Mr R Dhinakaran, MP, and Mr M Rajaram Honorary Consul of the Republic of Mali helped Amma distribute some of the 100 scholarships to local children on behalf of the Amriteswari Society of Singapore. Ram Mohan Seth helped launch the program souvenir magazine and Mrs Kirtida Mekhani, a member of the Garden City Fund Committee received a blessed tree sapling from Amma as part of the Green Friends Billion tree campaign.
On all three days of the programs, Amma conducted bhajans, satsangs, and guided meditations. On the last day, a puja was held for world peace and harmony attended to by a huge crowds. The final Devi Bhava darshan ended 9.30 in the morning, after which Amma continued on to Malaysia for her next program to be held the following day evening.