Saturday, 14 September 2002, 4.00 PM
One more contribution to society from our most Beloved Amma – the College of Medicine at AIMS, Kochi – a majestic institution offering high quality education in the field of modern medicine. The college's curriculum has been designed to provide value-based education and mould the character of the younger generation through a synthesis of science and spirituality so that their earnest endeavours to achieve progress and prosperity in life is matched by an ardent desire to extend selfless service to the society, one complementing the other.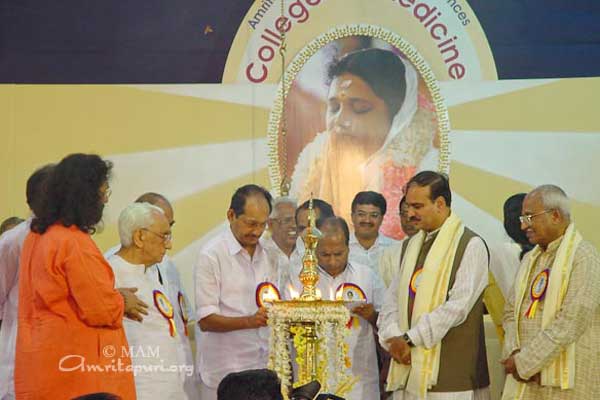 The college is moulded on a Gurukulam model, for every group of students there is a professor who looks after not only their academic needs but also helps them develop a well-rounded personality.
The 12-storey, 1,20,000 sq.ft. building in the AIMS campus built at a cost of Rs.50 crore, is fully equipped with the departments of anatomy, biochemistry, physiology, community medicine, forensic medicine, pharmacology and an anatomy laboratory.
The inauguration
The Chief Minister of Kerala Shri. A.K. Antony inaugurated the college of medicine which is the first-ever to come up in the private sector in Kerala. In his inaugural address, the Chief Minister described the opening of the first private medical college in the State as a historic event and said that his government would render all possible support to Amma's service activities.
The school's opening was also marked by addresses delivered by Parliament member Shri K. Karunakaran, Swami Amritaswarupananda Puri and Honourable Minister of Health & Family Welfare of Kerala State Shri P. Sankaran.
The college, which offers a five-year MBBS degree, has a first class of more than 100 students. The students' first-year syllabus includes courses in General Medicine, Anatomy and Urban Health Care and Pharmacology. But while the students will be learning the ABC's of general medicine, they will also be learning more than diagnosis and treatment.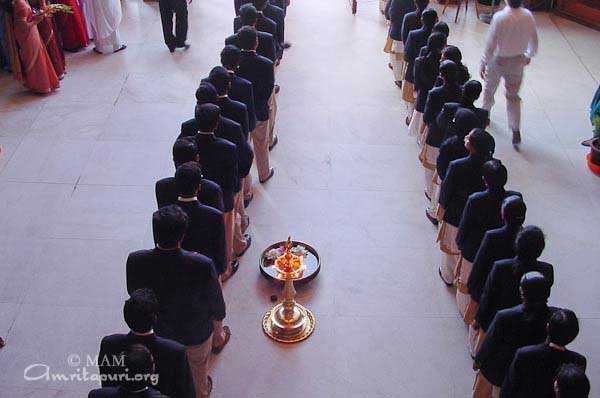 According to the college's principal, Dr. Vasudevan, "What we are going for is not only to create excellent doctors but also, because this is Amma's institution, to instil in them a service-oriented mentality."
Classes have already commenced for the first batch of one hundred students.