15 – 17 November, London, UK – Europe Yatra 2011
Before traveling to London to conclude her 25th European Tour, Amma visited her center near Antwerp, Belgium. She spent the day there with local devotees and served a prasad lunch. From there Amma continued on to the United Kingdom and conducted a 3 day program in London, where thousands queued for long hours to receive an embrace at the historic Alexandra Palace.
Meditations, Bhajans and Satsangs were held, along with a Puja conducted for world peace.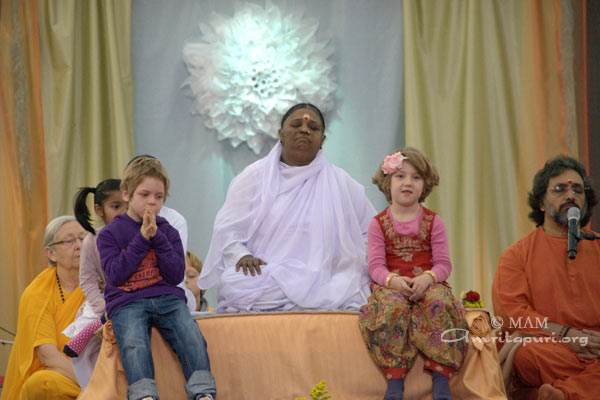 There was an extensive media presence during the programs. Amma's visit was covered by almost all major media outlets including the BBC, The Telegraph, and The Sun.
During her satsang there Amma said: "Worldly life is like climbing a big mountain. When a mountaineer climbs a mountain, he/she will tie a lifeline to their waist, which is attached to the mountain. In case they slip while climbing the mountain, they won't fall, because of the lifeline tied to them. In a similar way, if we tie to our minds the "lifeline" of devotion to God or remembrance of God, then no matter how many difficulties or adversities we may face in life, we will never suffer."
watch video