24 September 2011
Divine love took a form 58 years ago. Lakhs of devotees and well wishers from all over the world will be congregating at Amritapuri on Sept 27th, to partake in the 58th Birthday Celebrations of Amma, Sri Mata Amritanandamayi Devi.
To manage this mammoth gathering, MAM has made extensive hospitality arrangements by way of free food, stay, transport logistics , toilets etc. Arrangements are also being made for individual Darshan by Amma for the devotees who come for the celebrations.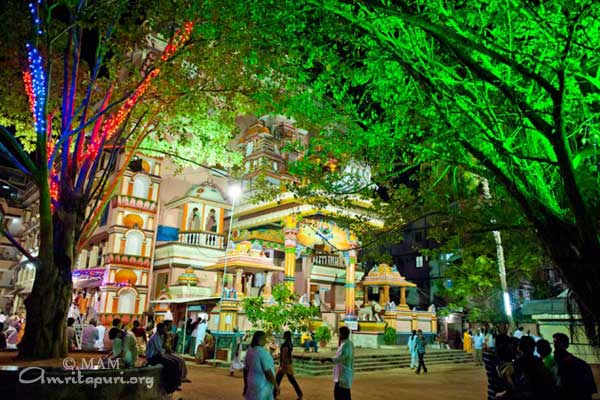 As the "B-Day" gets closer, the celebration mood at Amritapuri is approaching a crescendo . Anywhere you look, there is palpable excitement, joy and a mood of rejoicing.
One can witness many streaming in from all sides of the Ashram, making a beeline to the Accommodation office to get their space, talking in a multitude of languages, as they originate from different parts of the globe.
A starlit food court has come up facing the canteen, under the gaze of twinkling stars. Adjacent to the Juice Stall, a brand new Book Stall has sprung up. All the trees are decked up with necklaces of twinkling blue lights.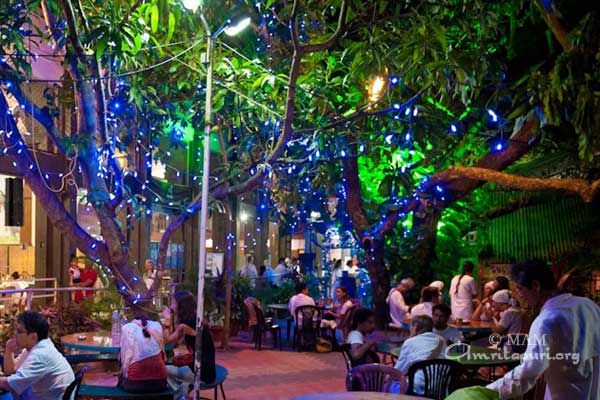 The Amrita University campus where the main celebrations will be held on 27th is being transformed, with a gigantic pandal coming up–its dimensions seem to be growing with every passing hour, so that it is ready to accommodate the lakhs who will assemble there. Simultaneously a mega kitchen is getting ready for round-the-clock serving of free food. The numerous classrooms in the campus will become make-shift staying places, office rooms, rehearsal venues, etc.
On 27th, Padapuja to the lotus feet of Amma will begin at 9.00 am. Amma will then address the gathering.
Amma's 58th Birthday Celebrations heralds the launch of numerous social welfare schemes like: training program for Home Nurses; free all India tution program for college students, and Amritasree scholarship for poor students.
The ongoing projects like: Vidyamritam stipend for children of farmers families who have been victims of suicides ; Amrita Nidhi pension for widows; free marriages of impoverished couples; free clothing for the underprivileged, etc. will also be provided during the occasion.
Mr. M.P Virendra Kumar, MD, Mathrubhumi will be presented with the prestigeous Amrita Keerthi Puraskar.
MAM will be releasing numerous books in Hindi ,Marathi,Kannada,Telugu,English and Malayalam in accordance with the celebration.
www.Amritapuri.org is also planning for a webcast of the proceedings so that devotees around the globe can watch it live.
– Tulasi