2 – 4 Jul, New York – USA Yatra 2011
Amma arrived in the heart of New York city, also known as the Big Apple, where she held a one day program at the Roseland Ballroom followed by 2 days of programs at the Manhattan Center with the final day falling on the 4th of July, American Independence Day.
The public holiday was celebrated with much of the city gathering to watch the dramatic fireworks display over the water surrounding the island of Manhattan, the city that never sleeps.
Thousands came to receive Amma's darshan, with many queuing for hours on the bustling sidewalks of 34th street.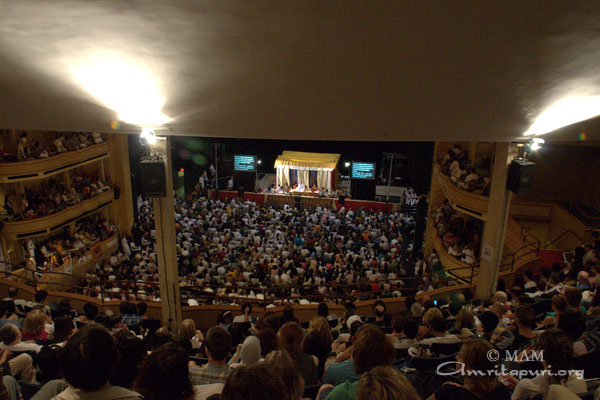 Amma said in Her satsang: "Today we see how our fuel deposits are getting depleted; we see how our water-supply is decreasing. We had not planned for this to happen. If this continues, what will happen to our future generations? Merely earning money and creating children is not enough. We should be careful to preserve their future as well- it is each of our duty to preserve this world for our children, whether it is water, or anything else. We had not planned for this to happen. Amma knows that many of her children have started carpooling. It is essential to be more vigilant about this."
Russell Brand, a famous British actor and comedian came to receive Amma's darshan and said: "It's no coincidence that She is called Amma, Mother, because I suppose for the simplicity of Her message of love, She offers a rebirth, a renewal."
Renowned singer Ramesh Narayan, disciple of the world famous Hindustani musician Pandit Jasraj came to receive Amma's blessings and sang a number of soul stirring bhajans during darshan.