13 March, Jaipur, Rajasthan- Bharata Yatra 2011
Amma held a one day public program in Jaipur, Rajasthan at the grounds of the Tagore International School. On a cool evening Amma extended her warmth and compassion to the people of Rajasthan by extending her charitable projects to those in need. As part of the Vidyamritam program several local youth were given scholarships for their education and handkerchiefs as part of the Amala Bharatam Campaign.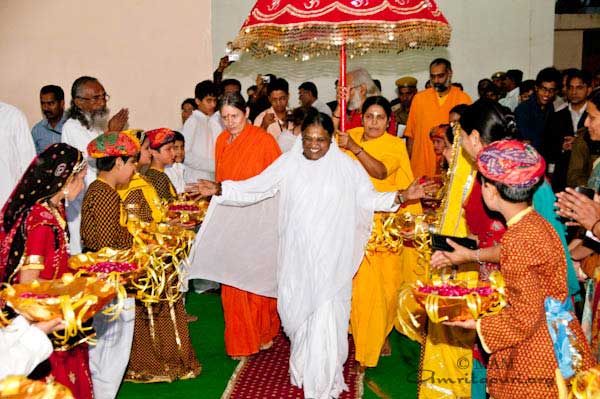 Several dignitaries were on hand to officially welcome Amma to Jaipur. Brij Kishore Sharma, Minister for Transport; Raj Kumar, Minister for Health; Jaipur Mayor Jyoti Khandelwal; Suresh Mishra, the local MLA.
While welcoming Amma to Jaipur, the Mayor shared her own experience with Amma, "I met Amma last time when she visited and I am thankful to her. When Amma last came we were suffering from a severe drought locally. On that occasion, Amma asked me what my desire is. I told Amma we need good rains. After her visit it has been raining all year much more than usual almost from then until just last month. If Amma keeps visiting this city I am sure we will never suffer from a scarcity of water again."
The Mayor also added, "Amma is not only awakening the god consciousness in us…. She is like a mother who teaches a child all aspects needed for one's blossoming. She guides us on the spiritual path and the same time teaches us how to preserve water, rainwater harvesting, ways to protect nature, etc.
Mayor Jyoti Khandelwal continued, "During tonight's program, Amma has requested us not to litter, spit or urinate in public. Amma's request, we take as a command and I will try my best to make Jaipur a clean city; and Amma will be proud to say in her next visit that these are the children that took my requests to heart and executed what I asked them to do. I also take this opportunity to as an individual and as a part of the administration to say that we will contribute in whatever way possible. And I pray before Amma that Amma will help us make Jaipur into a world class city that not only is glorious in culture, infrastructure, technology, but also knows the way to rehabilitate the poor and maintain cleanliness and hygiene of the highest standards. I strongly believe that when we obey Amma's commands can we become befitting for her grace."
During bhajans Amma sang a song in Marwari, the local language of Rajasthan. After the bhajans Amma lead the Manasa puja in Hindi.
During the early morning hours an Archana was chanted for the benefit of the victims of the recent Japanese tsunami.
At the end of Darshan Amma sang Hari Narayana & Mere Muj-me bhajans to the delight of the devotees of Jaipur
— Kannadi