30, 31 Jan, Kovai Tamil Nadu – 2011 Bharata Yatra
Amma's 2nd leg of Bharata Yatra 2011 came to an end with a public program and a one day Brahmastanam Temple Festival in Kovai, Tamil Nadu.
Welcoming Amma to the city, Kandasamy MLA said: "Amma, you are doing various projects that no government can do, rather I would say no government can even think of doing. Amma has constructed houses for people who have lost everything during the Tsunami. I could witness this first hand while participating in the function when houses were given to beneficiaries."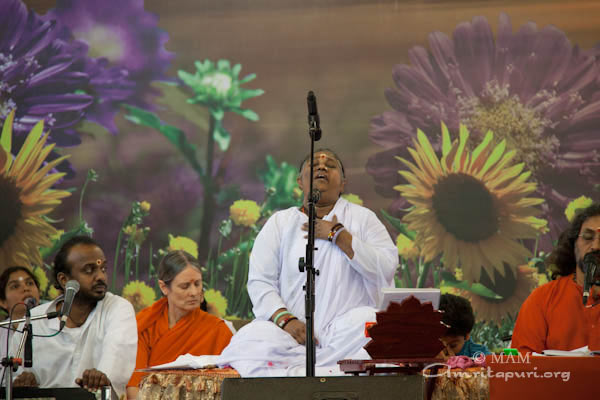 "Amma is adored as the one who embraces the world. The reason is that only Amma can wholeheartedly embrace her children's anger, needs and love. There is nobody else like that. Wherever there is grief in the world, Amma is always there to offer consolation and sheds tears with those that are crying. Whatever be the situation, there is no organization anywhere in the world doing service like Mata Amritanandamayi Math. We are very lucky to get your embrace. This alone is enough for our life to be successful." said R.M. Palanisamy MLA of Modakurichi.
As on all stops of this Bharata Yatra, Amma gave a way free handkerchiefs to the students who came for darshan, encouraging them not to spit on the ground – as part of the Amala Bharatam Campaign. However, in this area the ABC program has long been implemented by the students of Amrita Vishwa Vidyapeetam, Ettimidai Campus. In several clean-up initiatives hundreds of students have been cleaning up public places like bus stops and road sides.
To the delight of the devotees, Amma herself led the manasa puja in tamil and sang several Tamil bhajans.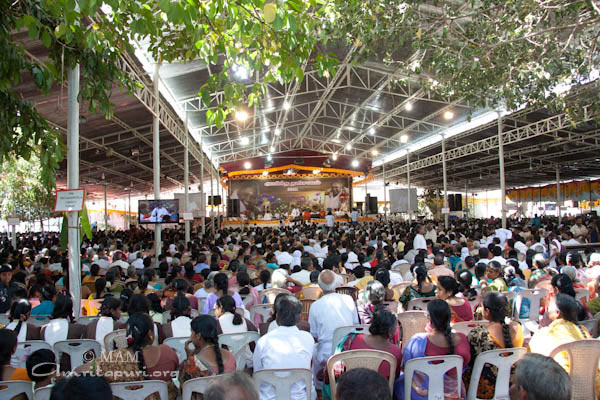 On both program evenings the devotees from Baduka, a tribal community from Ooty, performed traditional music and dance in front of the stage, while Amma continued giving darshan. The rhythmic and lively tunes inspired a large crowd to dance until the early morning hours, making the Kovai program, a celebration of the unity and happiness that is ever abundant around Amma.
– Kannadi