28 January, Tanjavur, Tamil Nadu – Bharata Yatra 2011
Amma paid her first visit to the city of Thanjavur and held a program at the Medical College grounds. A massive crowd began to form from very early in the afternoon. By the time Amma arrived in the evening the whole venue was overflowing.
Tanjavur is the ancient capital of the Chola empire and is considered one of the historic cultural capitals of Tamil Nadu.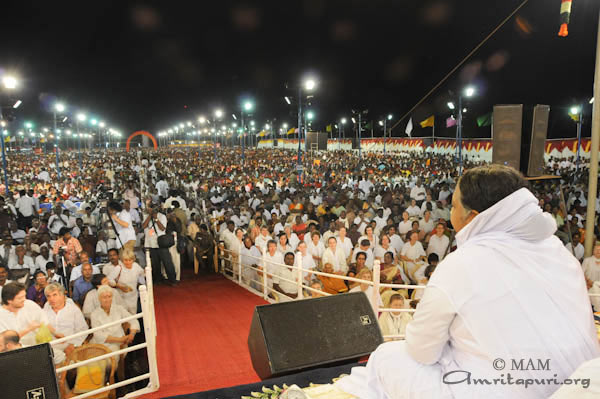 SNM Ubhayatulla, the Tamil Nadu Minister of Revenue officially welcomed Amma to Thanjavur and addressed the gathering by saying that he has been studying Amma's teachings and has found that, "whatever the topic, the theme is love alone…Each and every one of us has two witnesses: the first one is their own conscience and the other one is god. Here Amma is making people live up to their conscience and she herself is offering god's darshan to the people."
Amma launched a local chapter of the ABC initiative and handed over handkerchiefs to all students who came for darshan. In her satsang Amma asked all those present not to spit or urinate in public and keep the environment clean.
Amma led the manasa puja in Tamil and sang many bhajans in Tamil as well as Telugu.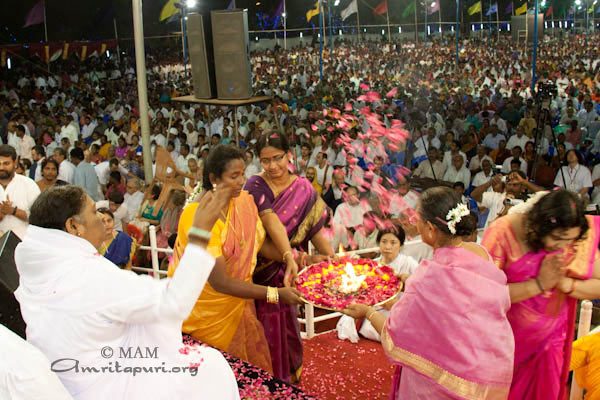 The city is also just inland from the coastal region of Nagapattinam that was devastated by the 2004 Tsunami. The ashram has rebuilt several villages and community centers in this area. Many of the beneficiaries of the ashram's relief work came to the program, eager to once again express their gratitude to Amma.
As darshan continued even after sunrise, tarpaulins and curtains were set up to protect the crowd from the increasing heat of the sun. Amma announced in tamil that everyone still waiting for her darshan should gather in the shade.
The program finally finished by 10.30 am, and Amma set to proceed for the next program in Kovai.
– Kannadi