7 – 9 November, Barcelona, Spain – Europe Yatra 2010
Amma was warmly welcomed by the local devotees at the Spanish MA Center . The Center is located in the outskirts Barcelona, the second largest city in Spain, very close to the holy mountains of Montserrat, which is a famous pilgrimage site for the Virgin Mary. Amma spent a day there with all the local devotees and celebrated Diwali with everyone in the evening.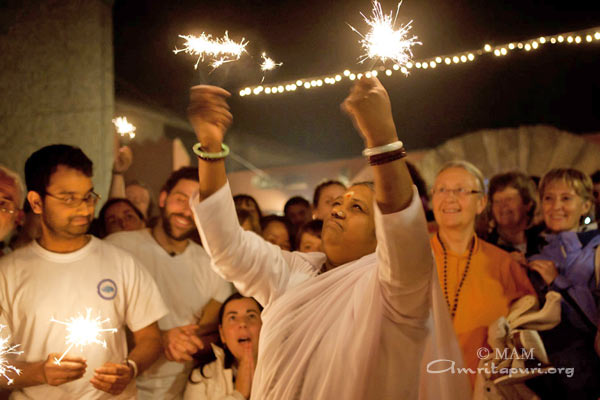 During the three days of darshan in Granollers, huge crowds filled the hall that was initially constructed for the Barcelona Olympics in 1992. Each day you could see long lines of people from early in the morning waiting to receive Amma's blessings.
Josep Mayoral, the mayor of Granollers, Barcelona, came to welcome Amma on behalf of the city. He was accompanied by Roger Pallarols, Councilor for Commerce and Small and Medium-Sized Businesses and Jose Maria Sala, Secretary of the Social Democratic Party.
Throughout the three days of program several renowned musicians, such as violinist Alex Loscertales and pianist Sira Hernandez, came to perform for Amma.