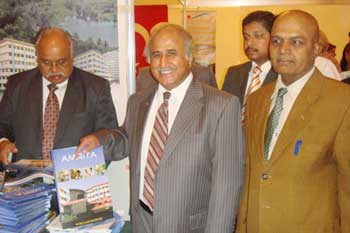 9-10 October 2010, Kuwait
Amrita Institute of Medical Sciences (AIMS), one of the leading health care institutions in India, showcased various facilities in the field of health services with their active participation at the 1st International Conference and Fair for distinctive hospitals took place in Kuwait last week end.
Amrita Institute of Medical Sciences is a major presence internationally and receives patients from around the world including several countries from the Middle East. "We have a dedicated team that manages our international patients starting with the processing of their medical reports, organizing travel, managing their stay in the hospital and return back home," said Mr Unnithan, General Manager, Marketing of AIMS.
"We had already held a few discussions with Mubarak Al Kabeer of the Medical College here in Kuwait for student exchange and faculty exchange programs with us and to explore other possibilities to utilize our strong academic expertise," he added.
AIMS also organized a seminar on the side line of the Kuwait Medical Tourism Conference & Exhibition organized with official sponsorship from the Ministries of Health, Defense and Interior, Kuwait Oil Company and Kuwait Medical Association.
The Indian Ambassador to Kuwait, Ajai Malhotra, inaugurated the seminar in which he appreciated the steps taken by Amrita Institute of Medical Sciences to come forward with a medical collaboration with the state of Kuwait and to participate in the first ever International Medical Conference and Exhibition in Kuwait.
For promoting medical tourism, Mr Ajai Malhotra said that the Indian embassy will arrange a new type of visa called Medical Visa for foreigners in which the patient and a family member can stay in India for medical treatment for up to one year.