April the 14th, 2001, marks the New Year in the Hindu calendar. The focal point of the Vishu celebrations in Amritapuri was the Kalari, where Amma first started Krishna Bhava in 1975.
The vishukkani (literally, 'first sight of the year') was kaleidoscopic display of elaborate floral arrangements and a platter of fruits. In Indian tradition, God is remembered at the outset of any new venture. This is especially true for the New Year. As such, it is believed that having a glimpse of auspicious items as the 'first sight' will usher in God's blessings.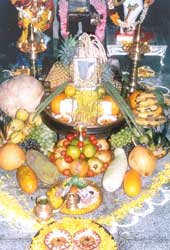 On the eve of Vishu, the ashram residents gathered to put up decorations, that included streamers and tiny light bulbs suspended from the branches of trees. When they had finished, the decorations cast an enchanting glow to the ashram. The festive spirit was truly in the air…
At 4 a.m. the next day, the tiny veranda and garden in front of the Kalari was packed with devotees. Some sat in meditation, while others stood prayerfully awaiting their turn to visit the shrine. The atmosphere resounded with the sounds of the gong and the conch, announcing the moment of the 'first sight'. The clamor lasted for as long as it took all who had gathered to offer their salutations to the beauty of the Lord's creation.
The symbolic significance behind this ritual resides in the prayerful desire to ensure that the bounteous blessings of God – represented by the harvest of fruits and flowers – be with us throughout the year. A mirror is strategically positioned between the fruits and flowers: as one beholds the auspicious vishukkani, one catches a glimpse of one's own Self.
****
Those familiar with Amritapuri may be surprised to learn that the old kitchen and "blue house" adjacent to the main temple building have been demolished. The much-beloved corner of our ashram will make way for a spanking new building housing a new dining hall, a spacious library and office rooms, among other facilities.
*****
Ram, the ashram's darling elephant, has moved into his new quarters at the northwestern corner of the ashram. Every morning, he visits the Kalari, and every morning, goes for a walk around the ashram premises and sometimes, along the beach.