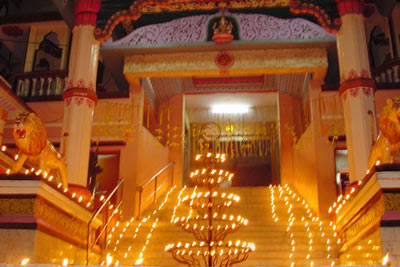 Once a month, a special two-hour puja is performed in the original little temple at the ashram, in honour of Karthika, the day of Mother's birth star.
This month, on the auspicious day, the ashram was decorated more beautifully than ever. Throughout the grounds hundreds of oil lamps were lit and garlands were hung; the trees were filled with multicoloured lights. An atmosphere of celebration and festivity filled the air.
Residents, visitors and 500 computer students from Mother's Coimbatore campus enthusiastically participated in the bhajans that were sung during the puja. The singing was so high-spirited that it drew people from the dinner queue!