12 June 2005 — Amritapuri
"The government and other organizations were not able to do much to help the tsunami victims, no matter how hard they tried. They were not able to ease the pain and sorrow of the people. But Amma came to our rescue. The Mata Amritanandamayi Math lent us a supporting hand," said the Hounrable Tourism and Devaswom Board Minister of Kerala, Sri. K.C. Venugopal. "M.A. Math was leading the way for other organizations involved in the relief and rehabilitation efforts," he added. Mr. Venugopal was inaugurating the distribution of the clothes and educational aids distribution for tsunami victims in Amritapuri.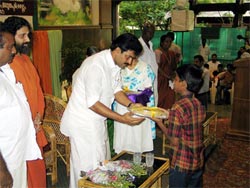 Amma's Ashram distributed a set of new clothes and educational aids such as books, instrument boxes and stationery to the children living in the tsunami-affected Alappad Panchayat. The beneficiaries of this distribution are the thousands of students who had attended the Yoga, Spoken English & Personality Development camp conducted earlier in Amritapuri.
Ashram residents had taken each of the children's individual measurements during the camp. The clothes distributed to them were prepared according to these measurements.
"The days that you spent with Amma will guide you for the rest of your lives," the minister told the children during his address.
Swami Amritakripananda Puri delivered the benedictory address. He reminded the gathering that the pleasures and pains of life were not caused by God, but were of our own making.
—Tulasi