14 February 2005 — Nagapattinam, Tamil Nadu
Amma visited several tsunami-hit areas in Nagapattinam on the 13th and 14th. There were no formal programmes. Nothing had been arranged by the Ashram, but by the time Amma arrived in the village of Nagore, there were many posters and banners welcoming her. When Amma arrived the place where she was to stay at 5:30 a.m., she was greeted by a throng of locals chanting "Om Amriteswaryai Namah." The enthusiasm and love they exuded had to be seen to be believed. Said Krishnaveni, one of those affected by the tsunami, "Amma has fed us. She gave us shelter and clothes. We want to see those hands that gave us life once again."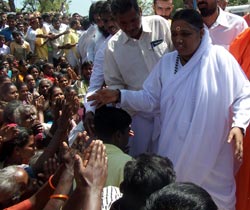 "It was so spontaneous. We arranged nothing, we made no formal announcements, but there was a spontaneous response from the locals. When they got to know that Amma would be coming, they had posters printed; word spread by word of mouth too. And today as I was coming from the camps that Amma intends to visit I saw almost all of the women cleaning the place, drawing kolams [decorative designs drawn as symbols of well-being and prosperity]. It was so beautiful," said Abhayamrita Chaitanya, the brahmachari in charge of the relief operations in the district.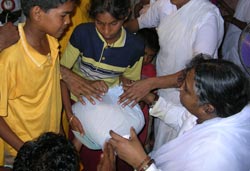 At all the places Amma visited, the men and women greeted her as if she were a close friend they had not seen in far too long. Amma talked to all of the people, telling them that she had not come there to hold a programme and give a satsang, but to share in their sorrow, to allay their fears. Many told Amma that they were afraid of going out to sea again. Many had lost their boats and fishing nets—not to even mention members of their families. Amma consoled them and gave them courage. "Mother Sea has always protected and sustained you," She said. "She would never harm Her children. It was because of an earthquake in the sea that the waves rose. You shouldn't be afraid to venture out again."
As for the material losses, Amma said that the Ashram will do whatever it can to restore their lives to normal. During the programmes, Amma also distributed rice, clothes and other provisions. She also visited individual homes in the temporary shelters in Samanthampettai—loving, caressing, comforting—giving them hope, like the sun spreading light after a long dark night.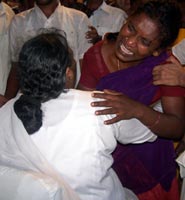 Amma made arrangements for those who needed special medical attention to be taken to hospitals and reiterated that the Ashram will adopt children who had lost both their parents if their relatives agree. The Ashram is also providing jobs and adopting two villages, as well as constructing more homes in a third in collaboration with the TATA Relief Committee.
At a couple of the programme sites, Amma led the gathering in bhajans.
Amma visited camps in Pattinacheri, Samanthampettai, Nambiyar Nagar, Akkarapettai, Karaikalmedu and T.R. Pattinam.
–Kannadi