13 February 2005 — Samanthampettai, Nagore Village, Nagapattinam District, Tamil Nadu
When a child is hurt sometimes he doesn't cry… until he sees his mother. However many tears the men and women of Samanthampettai had been holding back, they all seemed to come to the surface this week when their Amma came to check on them. Though they had never seen her before or read Her biography, they seemed to know her to be their own the moment they looked into her eyes—unhesitatingly rushing forward to experience the asylum of Her arms.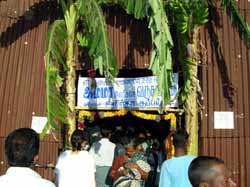 In two days, Amma visited eight villages in the districts of Nagapattinam, Tamil Nadu and Karaikkal, Pondicherry. In Samanthampettai, a village in Nagapattinam that Amma has adopted, Amma walked door-to-door, entering the families' living quarters and listening to their heartbreaking tales. The Ashram has already constructed temporary shelters for 300 families in Nagapattinam and is in the process of constructing 1,700 permanent homes in three villages. However, as Amma made her way through Samanthampettai, She made it clear that her idea of "adopting a village" is more than the reconstruction of houses.
In the first shelter, there was a boy who'd been feeling poorly ever since the tsunami. He had been treated, but had yet to regain his vigour. Amma told the mother that she felt he had some internal injury and that he should be taken to AIMS, the Ashram's super-specialty hospital in Cochin. Amma told one of the brahmacharis to write a letter of explanation for the mother and to arrange bus fare for her and the boy.
In the next house were two small children—a boy of about six and a girl of about four whose mother had died. Amma held the boy so close to her, looking deeply into his eyes and telling him, "Your mother is not dead. She is still there. The Atman is eternal. Be sure to study well; that will make her happy." The girl is too young to comprehend her mother's death. "Mom went to the sea," she tells Amma.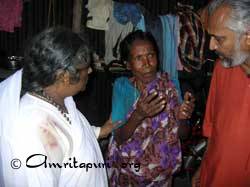 In the next house are a young woman and an old man. The woman tells Amma that her husband died. "Pray for the uplift of his soul," Amma tells her, as she wipes her tears. The woman nods in promise. "Only because you are giving, do we have food," she tells Amma as she falls into Her arms.
At another house, Amma speaks with a mother whose two children were pulled from her arms by the powerful waters of the sea. Amma learns that she has had her "tubes tied" and can no longer have children. Amma tells the woman and her husband that the Ashram will pay for them to go to AIMS where she can have reverse-canal surgery so that they can once again have children.
In the next shelter, there are a mother and father whose children were playing at the beach when the tsunami came. They were all lost. Amma pulls the parents to her chest, and they break down in tears. She tells them to pray for their little ones.
A few houses down the road, Amma speaks with Vanita and Balachandran, a sister and her younger brother whose parents are now dead. "Shall I take you to Kerala and give you a job there?" Amma asks the girl, who is around 20, upon learning that she has only studied up to the 5th standard. The girl agrees. "If you don't like the job in Cochin, Amma will give you a job in a school in Madras, okay?" Amma then tells the boy he can come along with his sister.
Another house finds a young mother, Punitavati, holding an infant girl—"Amrita Devi." Amma takes the child into crook of her arm as Punitavati tells her story. She was in her final week of pregnancy when the tsunami destroyed her home. Upon finding Punitavati in such a hapless and expectant state, the brahmacharis arranged for her stay at a local hospital until she delivered the baby. The doctors there told Punitavati that if she hadn't had been admitted, there was a strong possibility she would have died in labour due to a complication in her delivery.
In the next house, Amma consoles a mother and father over the death of their child—the candles lit before the child's photograph on an alter glowing in the background.
In the next house, another child is dead.
A grandmother…
In the next, another child…
The next, four children…
Son died…
Six-months pregnant daughter died…
Bhagyavati also has had her tubes tied. Again Amma tells the woman she can have her surgery reversed for free if she wishes at the Ashram's hospital in Cochin.
In the next house, a mother tells Amma that her son is now afraid to sleep at night. He was at the beach when the waves came, playing with his friends. They were all washed away. Only the boy survived—rescued by someone who saw him holding his hand above the water. "Don't be afraid," Amma tells him as she takes him into Her arms. "Mother Sea won't betray you."
A little way down the path, Amma comes to a shelter housing two brothers and sisters, each pair of which have lost their parents. "Would you like to come and work in Cochin?" Amma asks them?
In the next house is a boy of about six with one of his legs wrapped in a plaster cast. Amma lifts him into her arms and holds him there as she speaks to his mother. "Amma doesn't feel this cast was done properly," She says. "You should send him straight to AIMS. This swami will give you a letter and arrange your bus fare." Then to the boy: "When you see the water, don't be afraid. The sea is our mother."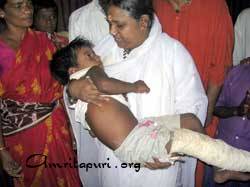 In the next house is a father holding a two-year-old boy. His wife is dead. The child is traumatised, acting insane. He won't leave his father's arms, even to take a candy from Amma. Looking at the man, one can see he is doing all he can to hold it together. Amma strokes his arm lovingly. "Take the boy to where other children are playing," she tells him. "When he sees them playing for some time, he will change. He may even forget everything."
When Amma adopts a village, she gives the people there everything she possibly can: food, shelter, medicine, education, jobs, love.
The villagers of Samanthampettai were both excited and in tears. They thanked Amma for coming and blessing their village. Amma told them, "There is no need to thank Amma. Amma is not a guest. Amma is a member of your family."
The villagers then told Amma that they wanted to rename their village after Her—"Amritakupam," or Immortal Cove. They asked Amma to unveil a placard immortalising the event. "Amma doesn't need any board," Amma said. "Your happiness is my board."
The villagers responded, "Amma, the moment we saw your face, we forget all of our sorrows. We are all happy."
–Sakshi