14 February 2005 — Karaikkal, Pondicherry
Amma was in Karaikkal, giving darshan to the villagers who had been waiting patiently for their turn to come. Rice was also being distributed to everyone.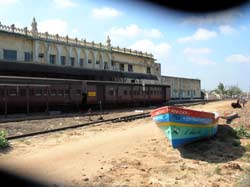 In between programmes, a few brahmacharis went to the beach to just see what it was like—for the Karaikkal was one of the worst tsunami-hit areas in India. The people were poor to start. The tsunami had deprived them of what little they had.
When the brahmacharis were returning from the beach, they saw a woman standing in front of her hut. Seeing her looking at them, they politely enquired about the well being of her family. She had a sad story to tell—she had four children before the tsunami, two had died in the waters. But in the midst of her sorrow and deprivation, she invited the brahmacharis for lunch, saying, "I know that Amma has come with an entourage of a couple of hundreds of people, and guests are a manifestation of God. Being poor I cannot offer my hospitality to all, but I can definitely feed you. It shall be a meal with fish curry the likes of which you have never had before."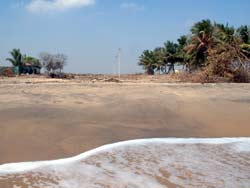 The brahmacharis were speechless. They had come with Amma to give, but here a poor woman was offering them—who were total strangers to her—food, love and respect. Not knowing whether she and her family had enough to feed themselves, the brahmacharis politely refused, telling her that a glass of water was enough for them. She immediately brought water for all of them, happy to be able to offer something.
Many a times when we give, we forget that the giving is not in the quantity or quality but in the attitude with which it is given.
—Tulasi