Bharata Yatra 2007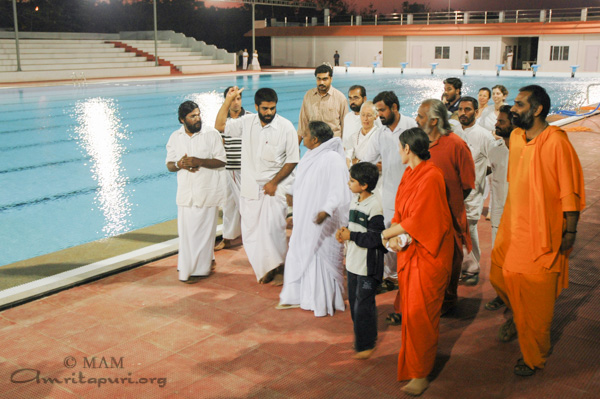 24 January — Amrita University, Ettimadai, Coimbatore, Tamil Nadu
The sun had yet to rise when Amma reached the Coimbatore campus of Amrita Vishwa Vidyapeetham. Located just outside a forest reserve at the base of the Nilgiri Hills, the 400-acre campus is one of the most breath-taking in India.
Amma had come at the request of devotees in order to bless the university's new outdoor Olympic-sized swimming pool. It didn't seem to matter to Amma that she had literally just finished three full days of darshan in Kovai, a town about 16 kilometres from the campus.
When Amma reached the water, the sky was still dark, and Amma was cast only in the soft glow of the pool lights. Amma knelt down and gathered some of the water in her cupped hands. It was a moment of silent worship—one who could truly see the divinity pervading the elements communing with them. Amma released the water back into the pool, and then slowly began performing pradakshina [reverent circumambulation] of the vast body of water.
When Amma finished blessing the pool, she was taken across campus to see some of the university's dairy cows. At one point, Amma entered pen housing about 10 calves. In fact, when Amma walked in the calves scattered, but Amma quickly grabbed one black-and-white calf by the rope around its neck and pulled it to her. As Amma stroked the calf's back, it quickly calmed down and clearly began relishing the affection being showered upon it. Amma gave the young cow a strong embrace and began repeatedly planting kisses all over its head. Then, with Amma's mouth just inches from the calf's, the calf stuck out its tongue and lapped at Amma's face.
It was a lucky day for animals. The next creature to have Amma's darshan was a tiny frog, which leapt onto the leg of one of Amma's brahmacharis. He handed it to Amma, who kept it in her cupped hands like a small treasure. After a short time Amma said, "Oh, its family must be missing him. I should set him free," and released it.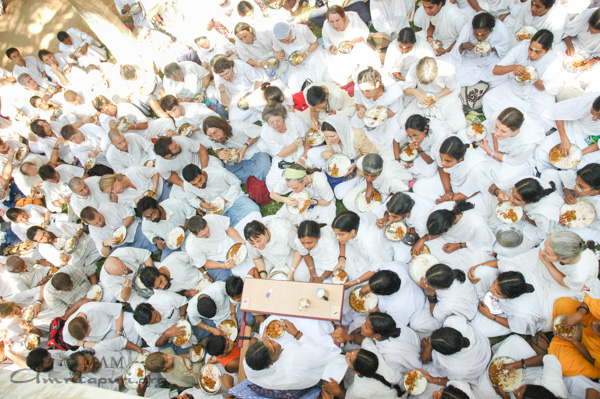 Amma then went to a small room the university has set up for her in a wooded area on campus. There, she called for the rest of the devotees and disciples accompanying her on her Bharata Yatra. When they arrived, Amma personally served each of them a plate of food. Was Amma's attitude that of a mother, a guru or a devotee? With one like Amma, for whom the line between Creator and creation has been permanently blurred, it is hard to tell. Once when asked by a journalist whether a large group of devotees surrounding her were worshipping her, Amma responded, "No, it is the other way around. It is I who am a worshipping them."
In India's scriptures, five forms of worship are specified for man to regularly perform. The final two being Nru Yajña [worship of man] and Bhu Yajña [worship of nature]. Man is to perform these yajñas in order to purify his mind, so as to one day actually be able to see man and animals as God. How inspiring to watch one perform them who has already realized that supreme reality.
–Kannadi