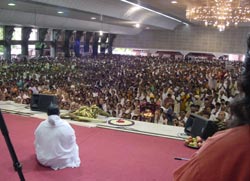 Amritapuri — Saturday, 28 August 2004
"What is it that is ancient and yet ever new?" Amma wanted to know. She was sitting on Her peetham before some 12,000 devotees, all of whom had come to celebrate Onam at Her ashram. Amma's voice was casual, like that of a teacher posing questions to a group of small children, trying to trick them into learning something.
"Amma!" a few voices called out. But as true as it may have been, it was not the answer Amma wanted. The correct one came quickly enough though: "Love."
"What is it that spreads faster than anything else?" Amma asked next.
"Chiri," a man's voice not far from the stage called out. She accepted it: "Yes, a smile."
Amma then went on to give a satsang that seemed to cover every aspect of life: the importance of creating a spiritual foundation, how to keep the family in harmony, temple worship, education, the importance of protecting Nature, cultural degradation, the importance of cultivating good qualities, ways in which we can uplift the poor and suffering.
Speaking to all Her children from Kerala, Amma also spoke at length about Onam. "Onam is sweet like mother's milk," She said. "It is our own, in the same way our biological mother is our own. Onam and Malayalees are not two, they are one. The Onam festival imbibes so much of our culture. Joy, brotherhood, happiness, contentment, devotion, sharing, sacrifice and surrender to the Higher Self — there are so many lessons in Onam we need to imbibe and apply to our lives."
"Pookalam [Onam flower decorations] are our expression of gratitude and devotion to the Lord. Really we have to arrange these pookalam inside our hearts," Amma said. "When each heart fills with love and compassion, it becomes the Lord's most favourite Pookalam."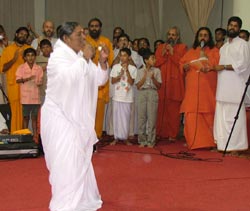 Explaining the principles behind the Onam story of Mahabali, Amma reminded the devotees, "Practicing dharma with awareness and the grace of the Lord — only when these two come together is life complete."
After leading everyone through a meditation and prayers for peace, Amma told everyone to stand up, to raise their arms above their heads, smile and clap their hands.
Actually, there was no need for Amma to tell everyone to smile. When Amma dances, the smiles just come. It is like the raasa-leela of Krishna and the Gopis — 12,000 people may be there, but for those focused on the bounce of Amma's step and the gentle sway of Her sari that number is reduced to one.
The clapping hands set the rhythm and then the harmonium began to play: bolo bolo gokula bala gopala jai gopala.bolo bolo nanda-kumara gopala jai gopala.
As She moved, Amma kept time with Her cymbals. You could hear their pristine chime ring out across the hall. Her eyes were closed and She looked very much in bliss as She danced in a simple way.
At one point the bhajan finished, but Amma did not. She continued to move to the uncovered beat kept only by the clapping of hands and Her small cymbals. Swamiji then restarted the song and kept it going until Amma Herself stopped and sat down in meditation.
So profound are the moments when Amma moves from dancing to meditation. One second Her body is so graceful and flowing, the next it is like a rock. The devotees too are transformed — 12,000 people pounding out a beat are instantly rendered silent. The only thing left moving are the fan-stirred folds of Amma's sari. In the juxtaposition of the two extremes, there is a teaching.
Amma sat in the depth of that silence for several minutes. She then stood up and began giving darshan. After a few hours, She stood up once again, walked to the back of the hall and began serving everyone the traditional Onam meal.
Twelve thousand people — families of devotees, students from Amma's schools, ashramites, orphans. Amma served 12,000 people their Onam meal, a contagious smile spreading from to Her to each one.
— Kannadi