16 March, 2006 – New Delhi
When the car driving Amma reached Jawahar Lal Nehru Stadium in New Delhi, Amma was greeted by a horse-drawn chariot, a team of fully decorated elephants and camels and a band of turbaned bhangra dancers, one of who spit celebratory bursts of flame into the air.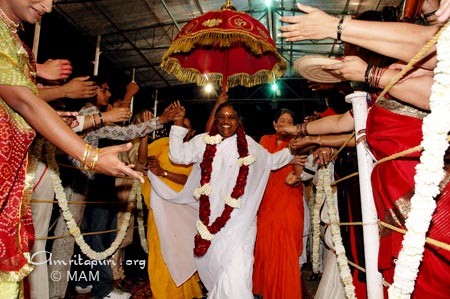 The dignitaries who came to participate in Amma's programme in the Capitol City included Delhi's Chief Minister Sheila Dixit; Leader of the Opposition and former Deputy Prime Minister of India L.K. Advani and Union Minister Mahavir Prasad.
Addressing the gathering, L.K. Advani said, "This is not a venue for speeches by politicians like me. I have come here only to obtain Amma's darshan and blessings."
The crowd responded with a warm round of applause.
Continuing, Advani said, "Working in day-to-day life, an individual—consciously or unconsciously—collects a lot of pollution. Spiritual gatherings such as this one help detoxify us, removing all the pollutants we have collected. Coming here today, I am happy that once again am being freed from all the pollutants that I have previously, consciously or unconsciously, gathered."
Advani also said how in his opinion the SQ, or "Spiritual Quotient," is just as important as the IQ or EQ. "At spiritual gatherings, each individual gets his SQ increased, and because of this the nation progresses very much," he said.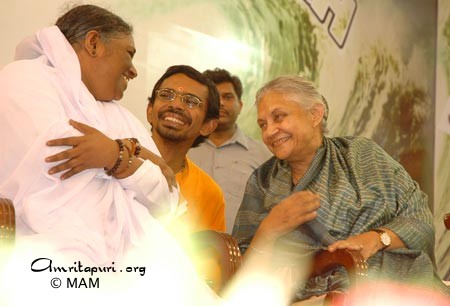 Delhi's Chief Minister Sheila Dixit thanked Amma for her annual visits to Delhi, saying, "During Amma's darshan, we feel deeply honoured, highly motivated and elevated. This is due to Amma's very benign, very holy and very kind presence. … Amma's presence not only blesses us, but also reminds us that in all the work we do the most important thing is how and with what spirit we do it. It is Amma's spirit that inspires us—especially those of us who are in the business of governance. Such inspiration helps elevate the work we do so as to make it as beautiful as you."
The CM concluded by requesting Amma to continue to regularly visit Delhi, saying, "Your arrival creates an atmosphere that keeps the citizens of Delhi inspired throughout the year."
Dixit, Advani and Mahavir Prasad all helped distribute certificates of enrolment to the Amrita Nidhi lifetime-pension programme to a dozen or so of Delhi's widows and cripples. The people who received their certificates onstage were representative of 1000 such new beneficiaries in the Delhi area.
The three dignitaries also jointly lit the deepam for the marriage of 13 impoverished couples sponsored by the Ashram. Amma herself then led the ceremony, instructing the couples when to pranam, offer arati and tie the taali, etc. The Ashram sponsored all the traditional jewellery, wedding saris and dhotis and feast.
Sri. Mahavir Prasad also helped release Amrit Delhi 2006, a souvenir commemorating Amma's visit to the Capitol City. He handed the first copy to Sri. Satbir Singh, the Honourable Mayor of Delhi.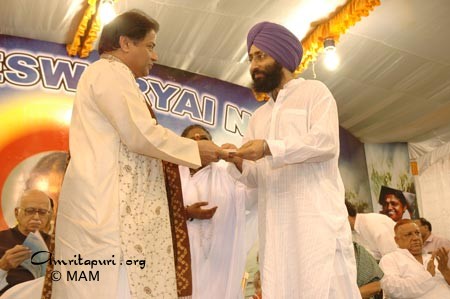 Playback Singer Sri. Anoop Jalota then officially released the Hindi translation of Santana Dharma, a book of Amma's teachings, by handing the first copy to Sufi singer Sri. Rabbi Shergill.
Other dignitaries to grace the dais included Ashok Ganguly, the Chairman of the Central Board of Secondary Education; Vijay Kumar, Director of Education, Delhi Administration and VHP member Giriraj Kishore.
When Amma finished darshan on the morning of the 17th, she returned to her ashram in Vasant Kunj, where she will be holding a Brahmasthanam Festival on the 18th and 19th.
–Kannadi