11 March, 2006 – Indore, Madhya Pradesh
Amma's first-ever programme in Indore was attended by a large number of the city's politicians, captains of industry and media barons, as well as more than 100,000 people thirsty to experience Amma's compassion.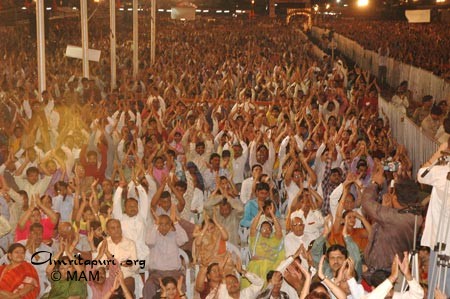 Dignitaries included Union Minister Kantilal Bhuria, State PWD Minister Kailash Vijayvargiya, City BJP Chief Ramesh Mendola, District Congress President Ujaagar Singh, Congress MLA Ashwin Joshi and Mayor of Indore Dr. Umar Sushi Sharma. Also garlanding Amma and sitting on the dais were Saint Mata Kankeshwari Devi and a few of her disciples.
On behalf of the Chief Minister, PWD Minister Vijayvargiya offered 50 acres of land to the Ashram for it to build Amrita Kuteeram houses for the homeless upon. He also helped distribute certificates of enrolment for the Amrita Nidhi lifetime-pension programme to a dozen or so new beneficiaries. The widows and crippled people who received their certificates onstage were representative of 1000 such new beneficiaries in the Indore area.
Free dinner was served to one and all.
–Tulasi