27 March — Kolkata, West Bengal, Bharat Yatra 2006
Amma's first of two programmes in Kolkata took place at Nazrul Munj, an indoor-outdoor theatre in the southern part of the city.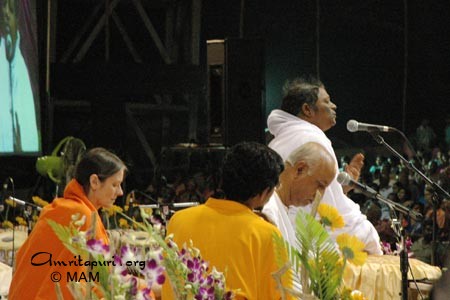 Participating in the program were a number of businessmen and government officials, including IAS officers Sukumar Das and Rajendra Kumar and industrialists Harsh Neotia and G.D. Bangur.
Sukumar Das distributed 10 keys to houses in the new 250-home Amrita Kuteeram housing colony in Panihati. The land for the colony was provided by the Kolkata Development Authority. Later, Sukumar Das addressed those gathered, saying, "The sight of Amma embracing all people all over India is a beautiful sight that I don't believe I will ever see anywhere else. Ego and all things bow down to such love."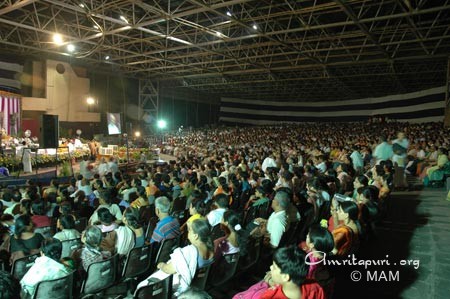 Sukumar Das then quoted a few lines from the world-renowned Bengali poet Rabindranath Tagore:
At the end of my carrier as a writer,
All that I have written appears to be a noisy discourse.
And when it lands as the peak of silence,
All popular attainments are reduced to nothing.
Two books were released during the program. The first copy of Amriteshwari 06, a book commemorating Amma's 2006 visit to Kolkata, was handed by industrialist Harsh Neotia to fellow man of industry Arun Poddar.
Speaking from the dais, Harsh Neotia said, "It's very difficult to speak anything on an occasion like this, except to say that if there are more people in the world like Amma who believe in selfless love, unconditional love, then all of us will agree that this world will be a much more bountiful and beautiful place."
A Bengali translation of Jyotir Gamaya, Volume Two was also released at the programme. The first copy was given by Rajendra Kumar, IAS, Principle Secretary, Government of West Bengal to industrialist G.D. Bangur.
–Tulasi