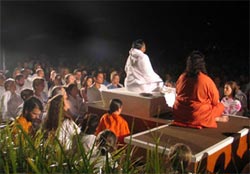 14 – 16 April 2006 — Gold Coast, Australia
The second and final retreat of Amma's 2006 tour of Australia took place on the shore of the aptly named Gold Coast. The cool sea breeze, the golden textured sands and the sound of the waves breaking upon them all provided a soothing environment for the three-day getaway. People from all over the country took advantage of the long Easter weekend to be in the presence of a living spiritual master.
As the first night of the retreat took place on Good Friday, in her evening satsang Amma spoke about Christ's crucifixion. Amma explained how visually the cross is very similar to a crossed-out letter "I" and that, in fact, this is what the crucifixion represents—the surrendering and destruction of the ego, the sense of "I" and "mine."
On the second evening of the retreat—which began with a meditation—Amma decided to walk the 10-minute trip from the retreat accommodation to the program venue. It was a beautiful sight—the sun setting on the horizon and the waves repeatedly rushing forward to wash Amma's bare feet.
The meditation was held under the open sky in a small grassy field near the darshan hall. With a nearly full moon in the sky and Amma in their midst, the devotees engaged themselves in meditation on the sacred syllables Maa and Om. At the end of the meditation Amma answered a few of their questions and then led everyone in singing "Hari Bol Hari Bol."
At the beginning of that night's darshan, several of the children attending the retreat performed a musical play depicting scenes from Amma's childhood.
Then, as if the day had not been full enough, when darshan finished Amma decided to dance. Getting up from her darshan chair, Amma walked onto the stage. She then asked everyone to stand up and dance along with her, feeling the bliss of the Self within. With the song "Bolo Bolo Gokula Bala" sounding through the hall, Amma moved from side to side, playing the kai-manis. As the song progressed, Amma moved faster and faster and then when it stopped she sat down in a meditative posture in utter silence and stillness. The devotees standing around her followed her example.
Devi Bhava darshan took place on Easter Sunday, and Amma gave darshan throughout the night and into the early morning hours. By the time Amma finished, the sun was rising over the ocean, and spreading its colours across the horizon.
-Tulasi