Amritapuri, 1 September 2006
During the past few days, the Ashram has been buzzing with celebrations surrounding Ganesh Chaturthi and Onam.  While each morning has seen a new Pookkalam (flower design) created for Onam by students of  Amrita University,  the  evenings have been resounding with bhajans being sung at the Kalari in honor of Ganesh.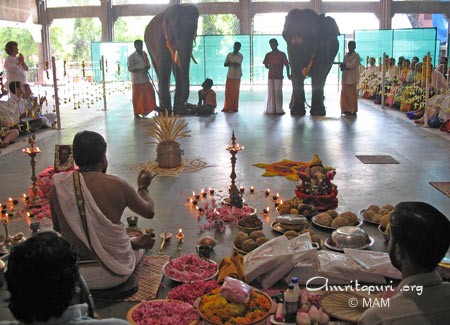 The celebrations started last Sunday.  In the morning, a six-foot tall statue of Ganesh was carried in a procession along Beach Road. Children led the way – holding small candles.  Ashramites, students, and villagers followed behind the murti and danced in joyous celebration, singing and clapping their hands.  Lakshmi (one of the Ashram elephants) took up the rear – adorned with regal decorations. Along the way, villagers lined the roadway in front of their homes and lit lamps in honor of Lord Ganesh   When the murti reached the front of the temple, the celebrations grew even louder as boys and girls separated into different groups and continued dancing and singing.   The murti was then moved to a peetam located just in front of the Kalari.  More singing as a special puja was performed for Ganesh.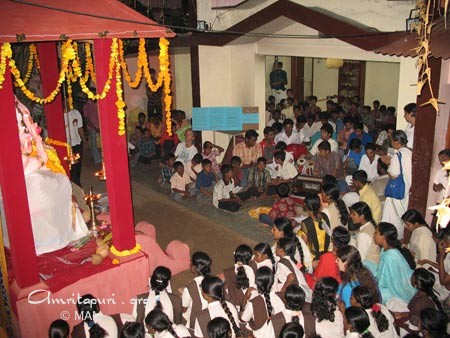 On Monday morning – Vinayaka Chaturthi, Ram and Lakshmi were brought to the Main Hall where another puja was performed.  This time, Brahmacharis led bhajans while Ashramites and Visitors joined in the festivities.  Ram and Lakshmi were then treated to huge plates of bananas and sweets.
Tuesday, during satsang, one of the Brahmacharis asked Amma about the meaning of Caturthi and wanted to know why it is considered inauspicious to see the moon on that day.    Amma gave a wonderful answer. "We are the caturthi," Amma said. (read full story)
In the evenings, just after bhajans, people have been gathering in the Kalari to sing bhajans. The air reasonates with the sounds of traditional aarati melodies…"Tan Man Sab Dhan Tera Sab Kuch Hai Tera, Kya Laage Mera…" which means "My body, my mind, my weath, is all yours, What is there as mine? "
The celebrations will culminate this evening (Saturday) when the statue of Ganesh is carried to the ocean and immersed in the waves during Ganesha Visarjan. Just in time for the main Onam celebrations on Tuesday.
Everyday is truly a festival……
–sree