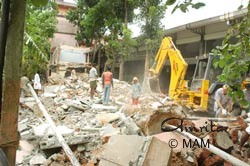 Amritapuri, 4 September 2006
What is created eventually gets destroyed. What is born eventually has to die. This is the wisdom of the scriptures, and what has been happening right here in Amritapuri. Nothing is permanent. At any given moment, Amma may request that an old structure should be torn down to make way for a new one. Or a department or groups of people have to relocate – often with no advanced notice.
So it was no surprise when word came just last week that the two store section of the East Wing Flats would be torn down in order to clear the way for a temporary expansion of the Temple to accommodate the large crowds expected for Amma's Birthday Celebrations later this month. The garden next door would also be relocated and cleared.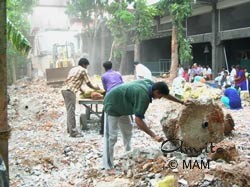 First, the old library located at the base of the Temple was remodelled to become the new home for the Canteen. While that was happening, workers began crawling over the adjacent two storey flats – anything that could be re-used was saved – the doors, windows, piping, electrical, and metal materials. Afters workers with sledgehammers removed parts of the roof and floors; a bulldozer began knocking down the concrete and brick walls, which accumulated in 6-foot high piles of rubble on the ground.
Then the rubble had to be removed. So earlier today, a hundred or so Brahmacharis, Westerners, and visiting devotees, began hauling off carts of concrete and brick to the backwaters. Someone brought drinking water and mango juice. After dinner, it was the Brahmacharini's turn; large pieces were moved hand by hand down human chains to the carts. Sacks were filled with sand and dirt. Later, a dump truck was brought in to assist. Young and old all participated in the activities.
By 11pm, most of the work had been completed. With destruction having cleared the way, creation can now take place.
–Sree