21 March 2008, Kolkata, West Bengal
Bharata yatra 2008
On the morning of March 19 in Kolkata, Amma consecrated a Brahmasthanam Temple, performing both stupika pratishtha and prana pratishtha consecutively. The Kolkata Brahmasthanam is the Ashram's first temple in West Bengal and its 20th such temple altogether.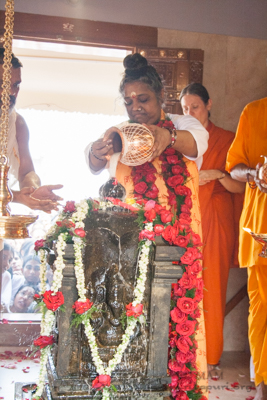 Kolkata is already home to a number of famous Kali temples, including Kaligat in South Kolkata and the Kali temple previously overseen by Sri Ramakrishna Paramahamsa in Dakshineshwar.
Several thousands devotees and ashramites participated in the consecration, which took place to the chanting of the mantra Om shiva shaktiyaikya-rupinyai namah as well as the Kerala temple music of panchavadyam. Like all of Amma's Brahmasthanam Temples, the murti [idol] is four-faced, with Devi facing the North, Ganapati facing east, Shiva facing South and Rahu facing West.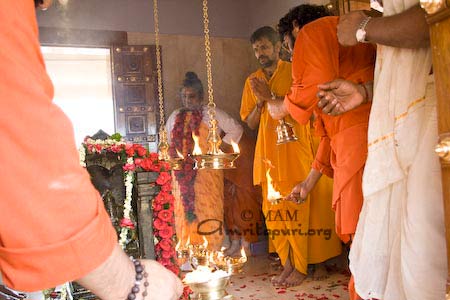 After the consecration, mass pujas were conducted for doshas [misfortunes] associated with Saturn and Rahu. The Saturn Puja was led by Amma herself, with a couple thousands people participating.
Amma's Kolkata ashram is located on Budge Budge Road, approximately 10 kilometres from the Hoogly River, Bengal's stretch of the Ganga.
—Kannadi