18 – 21 March 2008 — Kolkata, West Bengal
Sri Durga Ma—clothed in red, each of her eight hands clutching a weapon—bore witness to Amma's first Brahmasthanam Festival in her Calcutta ashram. For all three days of the program, the large Durga murti graced the dais where Amma sang bhajans, gave satsang, led meditation and manasa puja, and of course gave darshan. It is Durga, Kali and Tara who are the most beloved forms of the Divine Mother in West Bengal, and for the devotees assembled for the festival, Amma was the embodiment of all of them.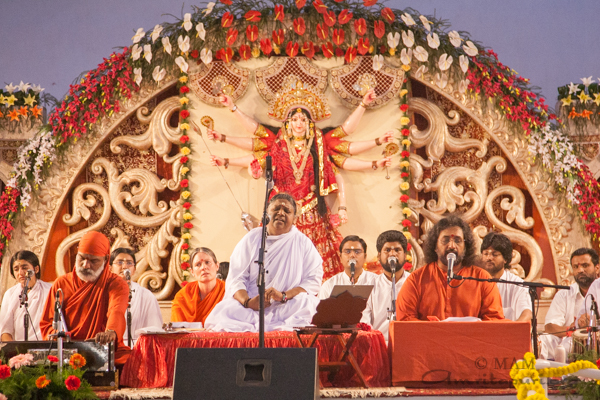 On the first night, a number of philanthropists, social workers and industrialists took part in the program, including Rajendra Kumar, IAS (Principal secretary, PHED), and Dr. Shekhar Chowdary, the director of Indian Institute of Managemet (IIM) Kolkata. Speaking about Amma, Dr. Chowdary expressed his inability to comprehend Amma's infinite personality. "I've read about her and have heard about her," he said. "But I still don't feel I understand her!" He then compared Amma to Kolkata's late-19th century tri-murti of Ramakrishna Paramahamsa, Sarada Devi and Swami Vivekananda, adding "Amma is a true master, one who has mastered all the paths to God."
After praising Amma's charitable works in the state—the Amrita Nidhi pension program, Amrita Kuteeram housing program and Amrita Vidyalayam schools—Chowdary concluded, "When I think of all the work done by Amma throughout India and in parts of the rest of the world, I cannot but think that Amma is an avatar—God in human form."
Chowdary's statements were punctuated with the extension of the Amrita Nidhi pension program in West Bengal by another 500 beneficiaries—30 widows and handicapped people receiving their first allotments directly from Amma's hands.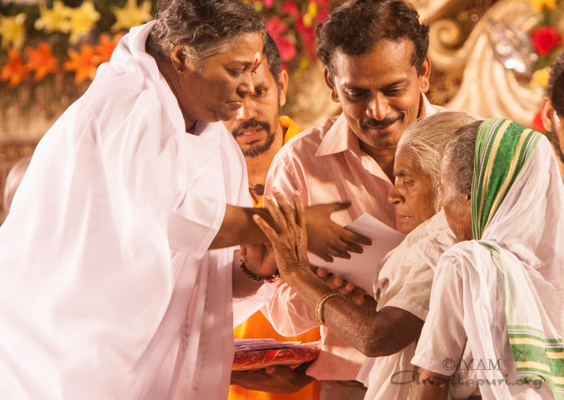 It was then time for Amma's satsang and bhajans, during which Amma treated her Bengali devotees to a number of songs in their mother tongue, including versions of "Ananda Janani" and "Amma Baramma."
—Kannadi