28 February, Bharata Yatra 2008
Bandra Public Program, Mumbai
Amma entered the Bandra Reclamation Ground for the Mumbai public program in a blast of excitement. A traditional Maharashtra welcome was given, which is a musical ensemble with large horns, along with Vedic chanting.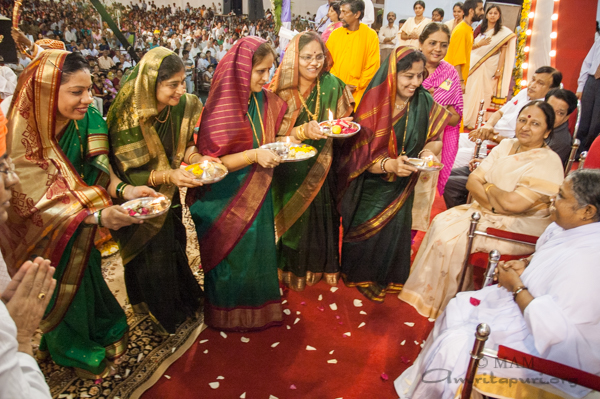 The program was attended by many dignitaries. The sheriff of Mumbai, Dr. Mrs. Indu Shahani said that she was honored to be called to Amma's program. She said that she needs Amma's shakti and love, in order to do things for the city of Mumbai.
"Amma please bless us. You are an epitome of love. Make us worthy of the love you are giving us." She asked Amma's blessing for her new project to uplift the women of Mumbai. She ended her speech with a shayari (a poetic saying).
Mujhe apne bulaya, ye karm nahin to kya hai?
'Mera martaba badaya, ye karm nahin to kya hai?
(You called me here. Is this not my fate? And by calling me here, you raised my status. Is this not my fate?)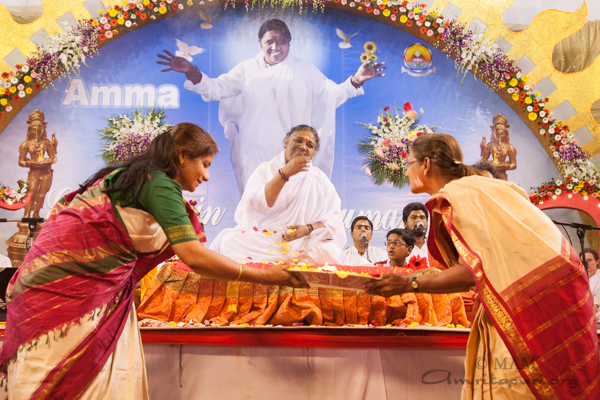 Smt. Suryakanta Patil, Minister of State for Rural Development, Govt. of India, distributed the Amrita Nidhi pensions for 20 impoverished people. Addressing the gathering, she said, "Actually, your real darshan of Amma will come when the mother in your house is happy, and your sister and daughter are smiling and secure. When Amma holds you close to her heart, she is awakening the motherhood and fatherhood within you. That indeed is heaven."
Then Shri Chaggan Bhujbal, Minister Public Works Department, Govt. of Maharashtra, spoke about Amma. He said, "unlike other saints who live in the Himalayas and other such places, Amma is always amongst the masses, wherever people have difficulties, sorrow, or pain… be it a tsunami, a drought, or our farmers in Maharashtra, Amma and her disciples have been right there to help them and wipe their tears." He also said in his speech that since 1985, he has never missed a chance to see Amma in Mumbai. As part of the MAM's self-employment scheme, Shri Chaggan Bhujbal distributed sewing machines to 10 women.
After the public program, Amma will also hold a two-day brahmasthanam festival, at Amma's ashram in Nerul, Navi Mumbai.
-Sanjaya