21 Jan 2008, Pudussery, Bharata Yatra 2008
Amma visited Puducherry (formerly named 'Pondicherry') for an evening public program on the 21st. The program was attended by many respected dignitaries, including the chief minister of Puducherry, Sri N. Rangaswami. The chief minister expressed his wish for Amma to become more active in the state.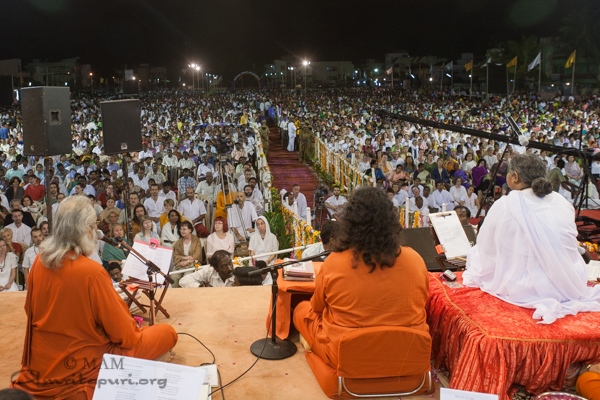 'Amma has helped to construct houses for the poor all over India. I humbly requested Amma to do the same for the poor people in Puducherry, and I am happy to inform all of you that Amma agreed to this.'
'It is our desire to have the presence of Amma's service activities in Puducherry. I expressed to Amma the desire for the ashram to open a branch ashram in our state, and I am glad to say that Amma also agreed to this. I humbly prostrate to Amma, in order that all of us here may be benefitted by her blessings.'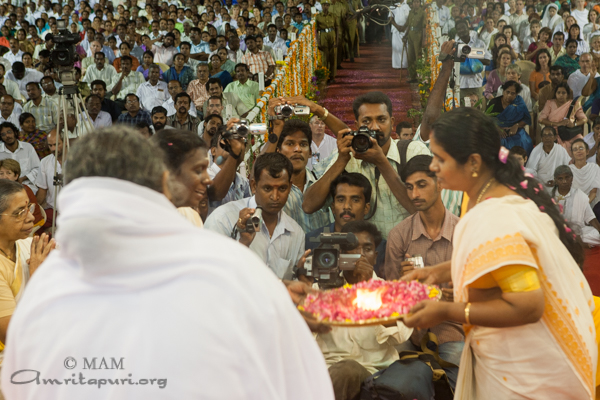 Other guests of honor included the Puducherry industries and power minister, Sri V. Vaithilingam, the Puducherry education minister Sri E. Valsaraj, the Puducherry tourism minister Sri M. Kandaswami, and the Puducherry deputy speaker, Sri A.V. Sreedharan.
The program was held at the Venkata Nagar Thidal, an open grounds.
Ten women were given sewing machines by the Chief Minister N Kumaraswamy to improve their ability to earn a living.
Amma's speech upon receiving the Cinema Verite award in Paris 2007 was translated into Tamil and was released by the Education minister Sri E. Valsaraj giving a Copy to the Chief Minister.
After the bhajans, Amma gave a request for the people to come peacefully for darshan. After this was translated in Tamil, Amma added that four years ago, the crowd was too anxious to get darshan, making it difficult to keep order.  Even though Amma said this, the start of darshan was as she hinted, with a big rush. However, the crowd slowly calmed down, and now continues to go on orderly as we post this.
– Sanjaya