On the occasion of International Earth Day on the 22nd of April, AYUDH members decided to stand up and do something in society. They set plans to bring about a change first in themselves and then in society, the change that will make our planet a better place to live in.
AYUDH Delhi celebrated Earth Day by putting up stalls at two of the major centres in Delhi, one at Saket Select City Mall, one of the biggest and posh malls in Delhi and the other at Rajiv Chowk Metro Station, the busiest metro station in Delhi.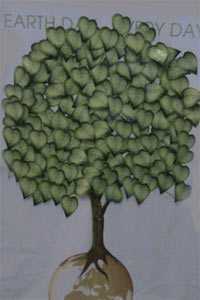 The concept was that people had to liven up the Earth – depicted by a dry tree on the verge of death with the leaves of their ideas, ideas of how they can make a change to the environment and our earth. They gave the visitors leaf-shaped paper – on which they could write how they could bring about a difference and then put it up on this leafless tree.
The response at both centres was impressive. In the Metro station stall, the tree filled up with leaves in about 20 minutes! They then had to put overlapping leaves up on the tree. People from all walks of life…rich and poor, old and young thronged to the installation to pin up their ideas to the tree. Those who came first then brought their friends and relatives. The children had a gala time participating in the quiz contest organised for them. People were seen looking at what other people had written, certainly in order to know more of what they can do, in addition to what they had thought of. People pledged to follow what they were writing.
The success of their effort was in the fact that they were able to instantly influence a change in the attitude of people towards our planet – although many spoke passionately about how bad they felt at the situation of the planet and how helpless they felt in dealing with it. However, they also said that the AYUDH stall had helped them realise that there are many people out there sharing their concern and if each one is to do their part well, we could still save the earth. Their despair had turned into hope and they would be more cautious of what they do in the future.
The earth day celebrations concluded by reminding us that there is still lots more to do that needs to be done.
– Dass