Sixty students from Japan's IVUSA (International Volunteer University Student Association) came from Tokyo to join Amma's house construction project at Raichur in Karnataka.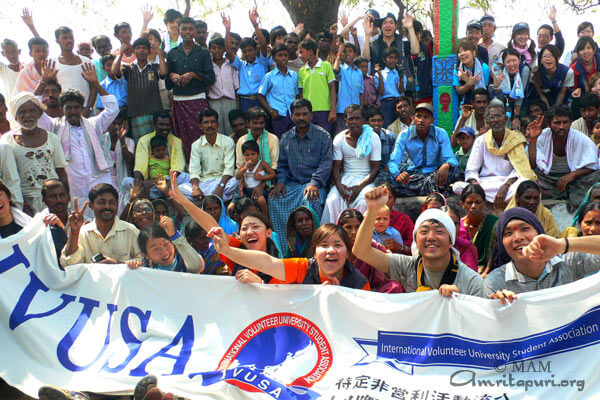 They stayed for more than a week and started spending their days in the hot sun helping with the construction of the houses. Temperature touched above 42 degrees and many of the students and accompanying brahmacharis fell sick. Amma had sent them umbrella hats to ward off the effects of excessive heat.
Most of the students enjoyed working at the construction site during this short visit. They even spent time with the local villagers and children, celebrating the Holi festival at the nearby village. During their free time, they trekked to visit a Shiva temple atop a closeby hill.
As they arrived in Mumbai and later in Delhi after their assignment, all of them met Amma before returning back to their country.
When asked what they had to say about their visit, one student named Yukie said "Incredible India!".
– Tulasi